We need to close our eyes and take a trip back in time. To see the fields nestled among the hills and then a man busy with poles and tape. He moves through the tall grass, carefully marking out curves on the ground. There are three youngsters with him, they put on their helmets, climb on their bikes and follow the lines with the wheels, creating a track through the fields.
That man was Graziano Rossi and the boys Valentino, Marco Simoncelli and Mattia Pasini, those marks on the ground what is now the Ranch. If Walt Disney had created a track, it would look like this, beautiful, technical, difficult but also incredibly appealing.
There are chequered flags, lights that look like wagon wheels, lit fires surrounded not by cowboys but riders, fuel drums and vin brulé. Before the start, Valentino's sister Clara sings the national anthem and two planes leave white smoke as they cross the sky. Just like in America, but we are in Tavullia. Morbidelli and Pasini raise two prosciutti to the skies in victory, the Rossi and Marini brothers lift a 'coppa', in the sense of air-cured pork rather than an actual cup.
It may seem light-hearted but it is actually a very serious game. Inaugurated in 2011, when the Ranch opened its gates for the first time.
THE PRICE OF SUCCESS - "The old Cava had its day - explains Albi Tebaldi, the Doctor's right-hand - We needed something more professional for training and this is how the Ranch came about". A packed dirt surface (the 'recipe' for which is a secret, but Schwantz was involved) more than 2 kilometres in length, a couple of ovals, a fairly easy MX track and even a track for radio-controlled cars.
Then there's the canopy that serves as a garage, a big restructured house and a guest house where there will soon be rooms for visitors. A guest list that has included the likes of  Marquez, Dovizioso, Iannone, Hayden and so on...
A great 'game' that requires 200,000 euro per year simply to maintain. Not exactly a play area, but like a dream gym. "This is a meeting place, a place of competition - continues Albi - When the riders go out here, they have the bit between their teeth, it's not a game. They train, argue, sometimes exaggerating so that we need to calm them down. Then, in the evening, in front of the barbecue, they study the sessions and wind each other up".
THE RANCH SCHOOL- The university for the riders of the VR46 Riders Academy, a school that you cannot sign up for, rather you need to be selected. There are now 11 students, led by Franco Morbidelli who seems to dance when it comes to flat track and who won the Moto2 title this year, putting the first trophy in the school's cabinet.
"They train here, but also in the gym, in Misano, they have trainers and doctors who follow them - reveals Tebaldi - If I have to put a price on it, they each cost between 60 and 70,000 euro each year". But VR46 is not a charity.
"It's also a management agency - he continues - We also follow them in this way and they give us a 10% cut". This is what they are aiming for, though in the early years, in order to grow, the "boss" has sometimes had to put his hand in his pocket.
We're talking about Valentino, who teaches and also gets an energy boost from training with the young guns. "It's difficult to say whether I'd have had such a long career without the Ranch and the Academy, it's definitely helped", he commented yesterday after the 100 Km.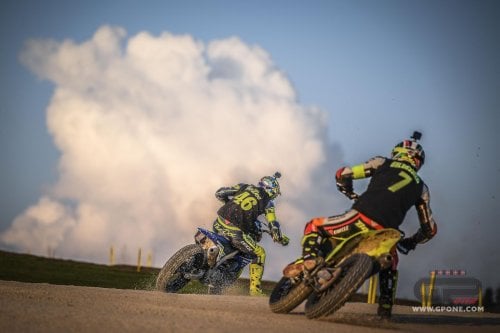 THE CONTROVERSIAL RANCH - Many advantages will inevitably raise a few problems too, the latest being a group of neighbours who have gone to the local court claiming improper licensing.
"Over the years they've carried out many controls here and everything's always found to be in order - points out Tebaldi - Before embarking on this project, we informed all the neighbours and most are proud of this structure, because they see Valentino train with the youngsters, who in turn become champions, like Franco. Two or three though are driven by hate and this brings nothing good.
Mayor Francesca Paulucci is not worried, and is proud of the 10 world titles, between Rossi and Morbidelli, in 8000 inhabitants.
There are also strict regulations regarding track use, with precise days and times and Ranch technicians who control noise levels.
THE RANCH OF THE FUTURE - Red tape aside, we can dive back into the engine noise and, like with a crystal ball, see into the future. Because we were well aware that Valentino knows how to ride, teach and involve. Now we discover that he knows how to arrange a race among friends as if it were a Grand Prix.
Passes to get in, TV covering the event, a grandstand for the spectators and everything running smoothly. "Vale is a chemist, taking care of every detail, he is perfectionist. As one of his colleagues, I know how hard it is to please him" jokes Albi.
Who knows whether, after so many years in MotoGP, he may decide to move into the director's seat. If this was a test, it's proved a success... Perhaps the new Ezpeleta will speak Italian.