Being the good Spaniard that he is, Antonio Elias Justicia - called "Toni" by everyone - conquered America, winning the Superbike championship and planting the number 24 yellow and red flag on American soil.
The factory Suzuki ridden by Elias is managed by team Yoshimura, a direct branch of Hamamatsu with headquarters in Chino, California. "When team Yoshimura and I met - Toni begins boldly - they needed me and I was looking for a competent and ambitious team that wanted the same thing I did: to win. In our second year together with the GSX-R, the MotoAmerica arrived."
Going fast and winning, that's how Toni beats the stride of the time that passes: "At 34 years old and after many seasons of competition, I know that the time on a flying lap is relatively easy to achieve. However, the situations that have already been experienced cannot be changed and what has been, has been. I still feel very young at heart and I nurture motivation that is still intact. My experience helps me a lot. I have won in all the Grand Prix Motorcycle Racing categories, from 125 to MotoGP, winning a Moto2 World Championship in 2010. Winning in America as well makes me a complete rider."
Of all your rivals, who has impressed you the most in your career?
"There have been many. I'll mention two: Manuel Poggiali, a really strong adversary who won two World Championships. Both in 125 and in 250, Manuel demonstrated his talent and then he retired. He does not run in our circles any more, but I know that he is happy and that's what counts. But the best of all, in my opinion, remains Valentino Rossi, who I beat in Portugal in 2006 with the Honda MotoGP bike."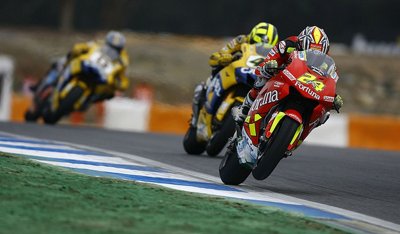 How is he different?
"I think that Rossi is the greatest rider of all times. He is even better than Agostini and Nieto. Valentino is 38 years old, has enormous determination and he is extremely brave. In the saddle, Valentino knows what moves you are going to make, especially in the final lap of the race. To beat Rossi, you have to attack him from start to finish, without giving him time to think. In fact, I succeeded in Portugal, but I had to work extremely hard to do it.
You have also competed against Marquez: is he the new Rossi?
"Marquez is just like Rossi. Marc studied Valentino in every move of his career, combining what he learned from his direct predecessor with his own winning DNA, to then beat him several times. The difference between Marquez and Rossi is the age: the former is 24 years old and the latter is 38. Getting back to the concept of time that passes and how difficult it is to stay on the crest of the wave, these 14 years extra will tell you just how good Rossi is. It is also true that at the beginning, Valentino got angry seeing Marquez do the same things because he was the young buck who studied and learned, taking the place of the expert champion."
Now Toni is like Captain America, but he still thinks often about the European races: "Despite the fact that I don't like how little professionalism there is in Europe - he specifies confidently - Just look at how many riders have alternated through the minor Superbike teams this season. In the USA people keep their word and the same goes for signed contracts. In America the rider maintains the commitment made until the end and the team pays staff always and on time. This professionalism is decreasing in Europe and that is why I like being in America."
So if you were to receive a proposal to return, what would you do?
"I'll admit that if Suzuki asked me to go back to SBK with a factory bike and team, I would think about it. I am happy in the USA, but I miss my family. For a project like that to solidify, it would take a team that has the desire, the professionalism and the money to manage the factory GSX-R machines. The four-cylinder from Hamamatsu is at the same level as Ducati and Kawasaki and even in SBK it can go back to winning."
What else do you like about the USA?
 "In the USA it is like a family. The paddock is open and there is a lot of human contact between fans and riders. When the accident with Nicky Hayden happened, I was very close to his brother Roger Lee, offering moral support and asking him to turn laps on the track together. Our relationship grew a lot and now we are friends.  You have to commend respect from the other guys on the track. Beaubier and I have locked horns more than once, ending up on the gravel at least a couple times, but everything ended there."
After so many years of racing, what is something that you still wish for?
"I still have a year left in my contract with Yoshimura and I want to try to win the MotoAmerica title again. After that, I don't know what I'll do. My biggest wish? A wild card on the factory MotoGP Suzuki. I would be very happy, because I have never raced for a Factory team in the Top Class."
Share