The Superbike tests are full throttle at Jerez, and among the various riders on track is Alex De Angelis, who is riding the MV Agusta. Are we talking about a second new entry to the team in addition to Torres? For now no, as Alex himself explains.
"MV asked me to come to Jerez as test rider- explains Alex - Torres is not yet fully recovered from his Qatar injury so the team, that needs its track time also because there are some new team members, wanted me to be here in case Jordi was unable to ride all day. Jordi has in fact been able to ride, so my help was relative".
This didn't prevent the San Marino rider from lapping with the F4 RC though, and he is impressed.
"The team was very kind and let me ride anyway, wanting my opinion considering the many bikes I've been to ride during my career. I had really great sensations, especially yesterday when I was able to immediately set some good times without realising it, as I couldn't see them on the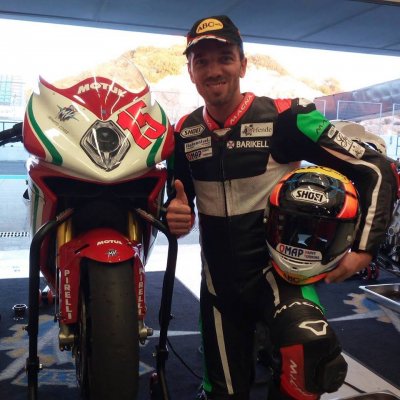 dashboard. I was surprised how easy it is to lap well with this bike".
The relationship between Alex and MV may have got off to a good start but for now it doesn't look as if it has a future: "My work with MV ends today, but of course, if they needed me again in the future, I'd be happy".
Alex has had a turbulent season, his Superbike experience interrupted shortly before the Lausitzring round (when team Pedercini decided to replace him with Russo). He then had three wild card entries in Moto2, at Silverstone, Misano (where he finished 12th) and Sepang. Now the goal is to find a ride for 2018, and it's looking as if he'll be back in the production-derived series.
"My situation is in stand-by for now: I have two meetings in coming weeks regarding Superbike, after which I'll made a decision. Luckily, after the stop in Superbike, I was able to continue to ride thanks to the Moto2 wild cards, a race in Russia on a BMW Stock and these tests, but now it's time to find something solid again".
Lastly, #15 confirms his physical fitness: "My arm has been fine since the middle of the year, so my physical condition is not an issue right now". 
Share