It's a short hop from two to four wheels. Valentino Rossi and Tony Cairoli know this well, and in little over a week's time the two riders/drivers will battle it out at the Monza Rally Show. The Italian event that traditionally rounds off the season's motorsport action, taking place from 1 to 3 December, will see the two champions take centre-stage, a pair who have accumulated 18 world titles between them, or rather nine apiece.
While the Doctor will take the wheel of the Ford Fiesta WRC, the Sicilian will drive the Hyundai i20 WRC of team HMI for the first time. Tony is keen to make up for last year's disappointing performance: "It's become tradition for me to take part in the Monza Rally Show, it's a fixed date on my calendar come the end of the season – said #222 -this year I'm very curious to drive a different car, equipped with more up-to-date technology, I'm absolutely determined to make up for the disappointment of last year".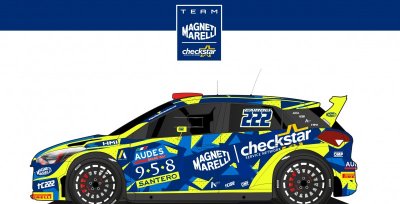 Cairoli dreams big, recalling his win in the Master Show (Sunday's battle along the straight) two years ago:  "With Team Magneti Marelli Checkstar and my navigator Danilo Fappani I'm sure we'll be able to take a significant step forward and fight for the podium right to the end. Because though the Monza Rally is mainly about the show, it's also true that everyone here is in it to win it." Set to join him in the pits are factory Hyundai drivers Neuville and Mikkelsen, who compete in the WRC.