Marquez is not unbeatable. Don't worry, no-one's taking his 6th world title away from him, but there is one classification in which he finishes in second place. In truth, it's the only list in which riders would be happy to finish last. Yes, we're talking about the number of crashes, data provided by the championship organisers that is always worth a look.
THE ROOKIE BEATS THE CHAMP - let's start with the final standings, and we crown Sam Lowes as the outright winner, with 31 crashes across 18 races. An absolute record, at least in terms of the last seven years, the only ones for which there is precise data.
'To err is human, to persevere is diabolical'... if this is true, then the Brit is a real devil. We speak ironically because Sam, despite often having to deal with the forces of gravity, has not suffered any serious injuries.
In a certain sense, he has emphasised his inexperience in MotoGP, but he is followed in the classification by two veterans. As we've said, the runner-up here is champion Marquez with 27 crashes. Marc has almost theorised the crash in all honesty, using it as a way to understand the limit. The Spaniard has only crashed twice in the race in fact, preferring to make his mistakes during practice, warm-up and qualifying.
Rounding out the 'podium' is Alvaro Bautista who misses out on the silver medal by just one crash, beating another regular faller, Crutchlow, who closes with 24.
Now we've looked at the bad, let's head to the bottom of the list and consider the good. In last, or rather first place (considering only riders who completed the full season) is Valentino Rossi with 4 crashes in 17 races (having missed the San Marino GP). The Doctor is no surprise, in fact his performance consolidates his results in previous years.
Dovizioso has to settle for the runner-up spot, with 6 crashes (though one no fault of his own, having been hit by Aleix Espargarò in Argentina) the same number as another Ducati rider, Hector Barbera. It's interesting to note that the two riders who battled for the title are in fact antipodes in this classification of crashers. A result that explains the riders' very different approach, with Marc exceeding the limit in order to find it, and Andrea preferring to sense it.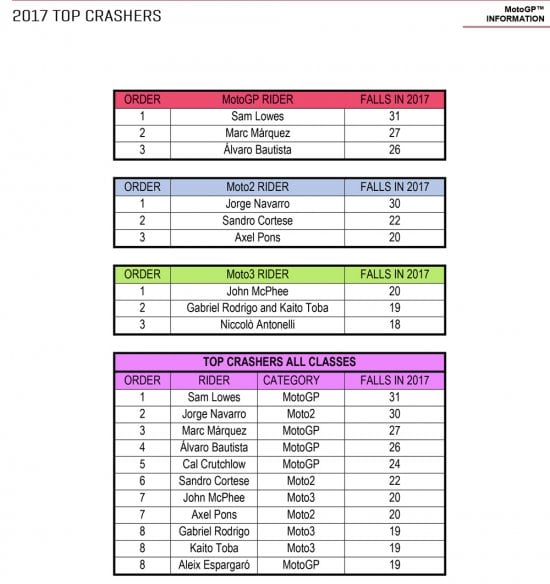 NAVARRO THE STUNTMAN - Looking at Moto2, we see that team Gresini leads the way, unfortunately for them. In the intermediate class, rookie Jorge Navarro clocked up 30 crashes, compared to 22 for Sandro Cortese and 20 for Axel Pons. The Italian team also has another rider placing in the top 18, with 19 crashes for Aleix Espargarò.
Just missing out on the podium are Mattia Pasini and Lorenzo Baldassarri with 18 apiece, the same number as Nahashima and one more than Luca Marini.
A special mention for the winner of the last three races, Miguel Oliveira. The Portuguese rider has only crashed 3 times this season.  Dominque Aegerter has also done well, with just 4 crashes. Francesco Bagnaia, despite a lack of experience in what was his rookie season, only crashed 6 times.
MOTO3 BUCKS THE TREND - While Moto2 and MotoGP have seen an increase in the number of crashes, Moto3 is the only class in which there has been a drop. The reigning class has exceeded 300 crashes for the first time, with a total of 313. Moto2 has beaten its 2011 record of 421 with 434 this season. Moto3 totals 379, less than in the last two years.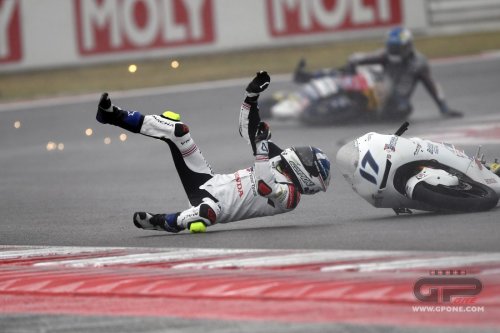 John McPhee, with his 20 crashes, wouldn't be on this particular podium in MotoGP and would only win bronze in Moto2. This is striking because riders in this category have less experience, but they have nevertheless done better than the 'senators'.
Rodrigo and Toba tie for second place and Antonelli takes third. Who crashed least often? An Italian, Romano Fenati, with just 3 crashes, exactly half the number of world champion Mir.
Check out all the data below and over the coming days, we'll provide some more, equally interesting information.