You never forget your first time and the Jerez tests will remained impressed on the minds of many riders. Particularly on those of Mir and Fenati, Moto3 champion and vice-champion respectively.
The Spaniard and the Italian battled for the title in the cadet class and will face each other again next season, in Moto2. Their apprenticeship got underway at the Spanish track.
Fenati already got a taste Moto2 with a brief test two years ago, but these were his first real tests with Team Sniper, which also debuts in this category. "The tests were tough but positive. Step by step, we improved my feeling with the bike and confidence increased. Now we head to Valencia to continue the work and improve further".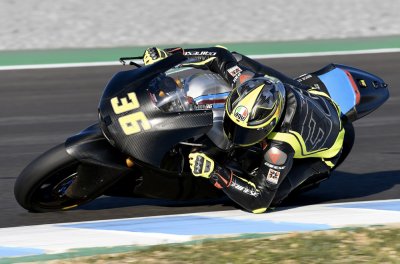 Joan Mir tested the Kalex of the world championship winning Marc VDS team.  "I had fun riding the Moto2 here. I'm also pleased with the work I've done with my new team, we've created a great atmosphere in only two days and that's very important. We only made a few changes to the bike, to the frame and suspension, to see what direction I need to go in to be quick in Moto2 and I already have clear ideas. I improved my times each time I went out on track and hope to continue like that next week at Valencia".
Federico Fuligni rode in Tasca Racing colours. In 2018, the team will redouble its efforts, with Simone Corsi competing alongside rookie Federico. "I'm very pleased to start this new adventure, because I can finally embark on a path and an experience that I've been waiting for. I get on well with the team and think we're on the right path together. I'm confident and can't wait to start with this new bike of mine."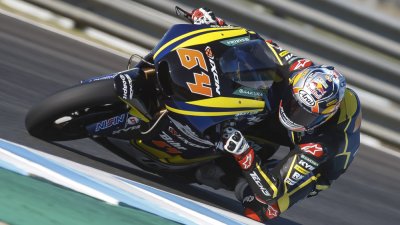 Another rookie is Bo Bendsneyder; he rides the Mistral of Team Tech3. 
"It's been really fantastic, I was consistent and able to improve lap after lap. Day one was about gaining some experience and then I started well on day two, immediately setting a good time. My pace was good and I set my best time with a tyre that had done 31 laps. I want to thank the team - now I can't wait to get back on the bike at Valencia".