In just a few days' time, the 2017 season will be just a memory and 2018 will officially get underway with testing at Valencia on Tuesday. Before looking to the future though, there is still an important present to tackle. The Valencia GP will not just close the season but will also assign the MotoGP title, with Marquez arriving in Spain with a 21-point lead over Dovizioso.
Marc has everything in his favour, but anything could still happen, and Michelin has prepared carefully for the final GP at a track that requires very particular tyres. Riders spend a lot of time leaning at Valencia and temperatures can vary greatly between morning and afternoon.
Michelin has decided to provide riders with asymmetric rear tyres (in the classic soft, medium and hard compounds) with a harder left side to deal with the stresses of the fast turns. At the front, only the soft and hard compounds will be asymmetric, while the medium compound has a symmetric construction.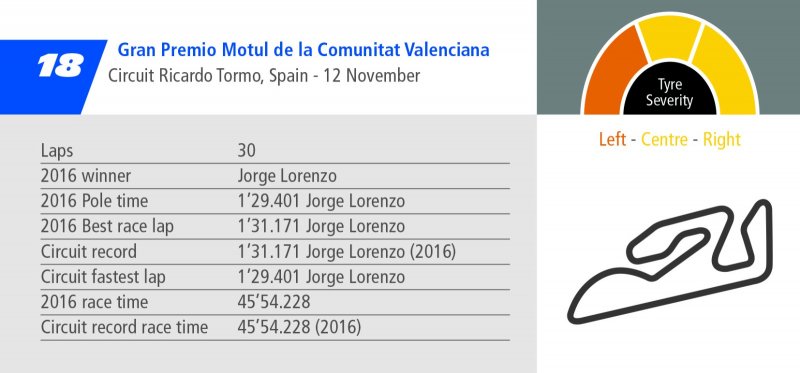 Piero Taramasso, two-wheel manager for Michelin, explains the situation: "It's good to be back in Europe after the three-week tour of Asia-Pacific, but it is also tinged with a bit of sadness as this is the final race of the season. It seems like no time since the pre-season tests, but we have had some amazing races this year and it has been a very good and successful season for Michelin. Valencia brings its own challenges as it can be very cool in the mornings, so we need tyres that can warm-up quickly and give good adhesion, especially on the right side. It's also a track with lots of left turns over its short distance, so the left side of the tyre doesn't have much chance to cool down and we have asymmetric tyres especially designed to take that into account. The final event is always a celebration for the fans and I'm sure this year will be the same, especially with the title going down to the wire."
Share