With Melandri's mechanical failure in race 1, the Ducati Aruba weekend began to get harder, with increasing problems and Rea's Kawasaki dominating... yet again.
The title scored by Michael Rinaldi in Superstock was a cure-all for Ducati and Ernesto Marinelli, who, as always, sees the glass half full:"yes, we had tough moments in Spain, but we came out of it well; we leave Jerez with two good podium finishes for Davies and Melandri, and we've also won the Stock1000 championship. At Losail we can fight for second place in the championship with Chaz, so, I'm quite happy".
Ernesto is used to turning any type of situation around, maintaining his proverbial optimism, which is accompanied by an enviable ability to keep his cool: "I'm an optimistic person by nature, I never give up, which is my motto. When things aren't going well, I try to understand what's going on, without losing my cool, and I do so thanks to my work group".
Losail will be your last outing with the Ducati Superbike; how do you feel your upcoming change?
"Coming to a decision was a long and painful process; after so many years of travel and sacrifice, I feel a need to change lifestyle. Working with Ducati has been like a drug, I've given it my life and I'm grateful and pleased with the path that has brought me here. I will carry every moment spent with every person with me, but I'll now take on a new technical and professional challenge. For whom? I'll be able to tell you soon".
Your best memory with Ducati?
"My best memory is definitely Bayliss' win in the Valencia MotoGP in 2006. Troy was in Superbike as SBK champion and before heading there he said: 'Ernesto, I'll race there if you come with me'. We went and we won, over what was an extremely tense weekend, the 2006 Valencia MotoGP was the longest race of my life, when it finished I felt like I'd run a marathon".
What about your worst memory…?
"I don't use the word 'worst', let's say that the least enjoyable and most difficult experience came in 2013, my hardest season ever, but I tried to take is a constructive experience, learning from the difficulties. I was able to strengthen the group so that we all came out stronger than before".
You've seen some riders, who have you admired the most?
"All the riders are fantastic though I haven't met any 'normal' ones (he laughs). Each has provided me with a unique, significant experience, especially since 2010, when my role went from being more technical to more organisational. I would like to name every rider but the one who amazed me the most in terms of his technical sensitivity was John Kocinski: he taught me things that you can't find in any books; the American was the perfect link between the change made to the bike and the feeling he had while riding. John was obsessive. I also want to name Anthony Gobert, an extraordinary talent, as well as Hodgson, with whom I won the first title in 2003, Laconi, Bayliss of course, with whom I won the most, and Carlos Checa, the latest Ducati champion in SBK. Also Davies, who won the first race with the Panigale - no-one brakes as hard as Chaz!"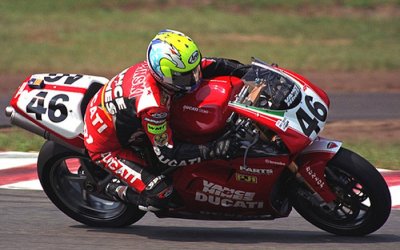 As a rider, would you have wanted a technical director like Ernesto Marinelli?
"I'm biased, so definitely yes (he smiles). For as long as I worked as track engineer, I was able to build real feeling with the rider, with the same goals and objectives. When I hear from the riders with whom I've worked, they all say they were pleased to have me in their garage, and I want to believe that".
What final gift would you like to give Ducati before leaving?
"Firslty, we've won the BSB championship with Shane Byrne; it wasn't easy, but we did it. In Jerez we secured the Superstock title thanks to Rinaldi. In Qatar we'll try to finish both races first to ensure we score second place in the rider standings. As ever, I will do my best to help the riders be fast, because I have given Ducati my heart".
What advice would you give your successor?
"I'm not a doctor but.... I always tried to do the best I could, in all conditions, in my intellectual honesty, recognising mistakes and turning them into learning experiences, and appreciating every single success. Whoever comes after me need only give their very best, that's all".
What one characteristics do Ducati and Ernesto Marinelli share?
"Definitely passion".