Like Suzuki, KTM also decided to use the Aragon track for a pre-2018 test. The team was out in force, with both factory riders Pol Espargarò and Bradley Smith as well as test rider Mika Kallio. The trio were able to get taste of next season, with new chassis, suspension and aerodynamic components.
Technical director Sebastian Risse had this to say: "the test has been positive. Two long days during which we've completed many laps and tested many configurations, on the one hand to end this season as well as possible and, on the other, to prepare for next year. We needed to take some important decisions and were able to do so during this test. We're pleased because we've found some improvements that we can use in the final four races, though we'll need to check these settings at the other tracks. For now we're very happy and feeling positive".
Pol Espargarò is also optimistic: "We've had two busy days but I'm pleased with the improvements we've made - said the Spaniard - On the first day, we tested the new material and I think we're moving in the right direction. We improved with respect to the race and these steps forward are important ahead of Motegi but especially Phillip Island. I want to thank the team for their extraordinary work, both in the garage and back at base, they are working day and night to continue to give us new material and help us to improve our speed".
"We tested many things, both for the next races and for 2018 - confirmed Bradley Smith - We worked on making the bike easier to turn and improving performance on new tyres. I feel we've taken steps in the right direction".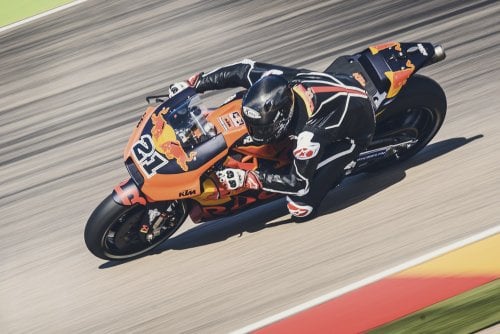 The Aragon test was special for another reason too, as Markus Reiterberger was able to test a MotoGP for the first time.
"I have to thank KTM and my team for allowing me to complete this test - said the German - It's been fantastic to come here and ride a MotoGP. The sensation was unbelievable during the first laps; I made seven exits and improved my confidence and times a little, so in the end I'm pleased. I would have liked more time of course but after a half-day's testing, I'm really happy and we'll see what the future brings".
The RC16 is very different to the SBK that Markus is used to.
"The riding style is totally different and it's a little difficult to understand how to ride a MotoGP, you need to be gentler - he explained - Where you can grab hold of the brakes, turn and then open the throttle wide with the SBK, with the MotoGP you have to be softer. If I get another chance to ride a MotoGP I'll focus on that aspect. A day to remember anyway".