Marquez has said that he has an 'off' switch in his head, in theory this should prevent reason in favour of instinct, but in reality it appears to extinguish his rivals' dreams. When he presses it, something he enjoys doing, the others should watch out. While Dovizioso suffers a momentary black-out and Viñales continues to fight with the tyres that wear out too quickly, Marc makes a break for it.

Pedrosa and also Lorenzo did well, and Aprilia continued to make progress along with KTM, but Aragon was all about Marc. And Valentino, who returns and realises riding is better than physiotherapy.

The good news continues with Moto2 and Morbidelli who crosses wheels with Pasini and gets his championship fight back on track. In Moto3 Di Giannantonio and Bastianini reach the podium, while Mir takes the win, perhaps trying to mark out Z for Zorro with his moves along the straight. He made a mistake, Race Direction even more so.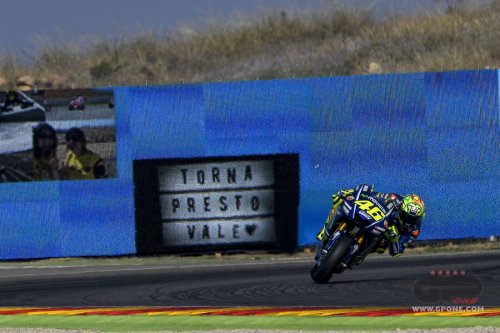 THE GOOD – After Valentino's umpteenth feat, we no longer ask when he'll retire but rather if he'll ever retire. With 9 world titles, a bank account akin to the GDP of a small country, and countless podiums and wins, every Sunday the Doctor acts like a young guy who's just got his first scooter. Fun to watch, he demands attention and, whether you like it or not, his name remains synonymous with motorcycling.
THE UGLY –  Some say they saw him wandering along Riccione's seafront eating an ice-cream, others believe he was looking for mushrooms in the woods around Forlì, or riding his bike in the countryside. We don't know where Andrea Dovizioso was, but he definitely wasn't on his #4 Ducati at Aragon. Or at least, it wasn't the Dovi we know.
THE BAD – It would be easy to blame Mir for losing his compass on the final straight, continuing to change direction. Joan made a mistake, but it was Race Direction that made the more serious error, claiming that he had demonstrated dangerous conduct but penalising him in the next race. The judges need to be judged here, because this decision basically paves the way for all kinds of error, with riders safe in the knowledge that they'll only pay the consequences later. An other opportunity to bring order to the chaos of Moto3 that has been wasted.
THE DISAPPOINTMENT – At Misano we honoured him, and rightly so, but it was quite another story for Danilo Petrucci at Aragon. This kind of performance by the Italian barely deserves a mention, so let's turn a blind eye (or two in fact) and wait to see him in Japan, certain that it was all just a bad dream.
THE CONFIRMATION  – Six months of asking ourselves how the championship would play out, lost among the statistics and forecasts. Then, in just a handful of races, we release that the assassin was right under our noses the whole time. Marc Marquez has solved the mystery in his own way, by winning. That's no crime.
THE PASS  - Riddle me this: what's better than an Italian winning a race? Answer: an Italian who wins a race after battling all the way to the line with another Italian. Morbidelli and Pasini are friends, they train together and their hand to hand combat was textbook.
THE MISTAKE – We're sorry to say it, but seeing what Kallio and Pol Espargarò are able to do (with the right dose of salt), KTM made a mistake in hiring Bradley Smith. The Brit, rather than racing, meanders round the track, while even the test rider shines with the Austrian bike. On paper, he has a contract for next year too, but with this kind of results it may be tough to honour it.
THE SURPRISE  – His name is Dennis Foggia, he's 16, was born in Rome and in a few days might well win the Moto3 category of the CEV. He was a wildcard entry at Misano and finished 8th, the second KTM across the line. History is simple and linear, but beautiful nonetheless.
THE INTERESTING FACT – Special edition helmets are now all the rage, but Alex Rins wanted to give it his own twist, supporting a campaign to raise breast cancer awareness. A worthy initiative.
I TOLD YOU SO – "I'll try to break away": Viñales' plan on Saturday was clear, it's just a pity Marquez overheard him.