The motorcycling family came together today in Madrid to say a final farewell to Angel Nieto, the 12+1 world champion who passed on 3 August. The celebration for the Spanish champion began at the Santiago Bernabeu stadium, where many riders were on hand to support Angel's sons, Pablo, Gelete e Hugo.
Practically all of the Spanish MotoGP contingent was in attendance, from Marquez to Lorenzo, from Pedrosa to Bautista, Rins, Rabta, Vinales and the two Espargarò brothers.
Giacomo Agostini, Angel's great friend, was also present, as were Gibernau, Pons, Capirossi, Aspar, Cecchinello and many others.
Valentino was unable to attend due to his injury, though Uccio Salucci was there on behalf of Rossi and VR46.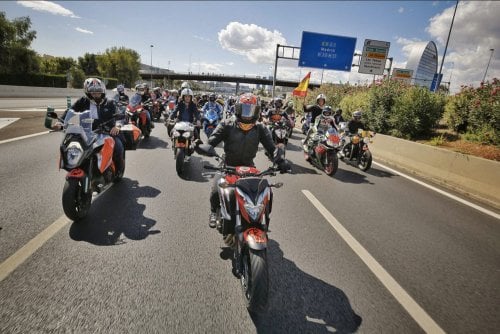 After a minute's silence in memory of Angel, the riders put their helmets on and rode in a line to the Jarama track, where the Nieto tribute came to an end.
(Photo motogp.com)