Things are not going well for Jorge Martin. On Sunday, at Misano, the Spanish rider was forced to wave the white flag while fighting for the podium, his hopes of a top three finish going up in smoke.
The bad luck didn't end there though, as earlier this morning the Gresini rider published a photo on Twitter, in which he is seen wearing a neck brace. There is more to the story though. Yes, because having published the image, the Spaniard then back-pedaled, removing it from social networks. Strange, and something that didn't go unnoticed.
The Twitter post published by his team clears up what happened, explaining that Jorge Martin was hit by a car while out training on his bicycle. He was taken to hospital for tests, but has sustained no serious injuries.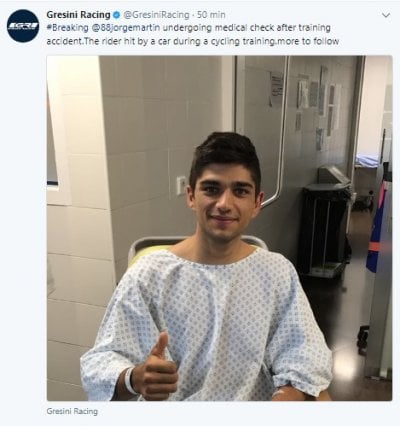 The Spaniard was training with Maverick Vinales yesterday, after the latter's fourth place finish at Misano.