Clear, fresh and calm waters, not that Petrucci was thinking about the Misano rain but the metaphor suits Marc Marquez to a tee in this case. The Spaniard turned into something  of a marine predator, swallowing up all those rash little fishes, or riders, who dared to get in his way.

And he came across some tough guys too, like Petrucci, who did all he could to prove unappetising. The final lap proved fatal for Danilo, who was joined by Dovizioso on the podium.

A string of crashes in Moto2 and two more Italians on the podium in Moto3, with Romano Fenati on the top step.

The riders put on a real show at Misano, unlike the public.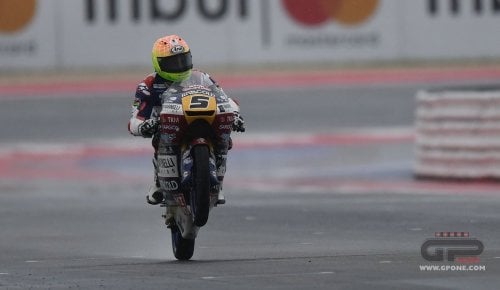 THE GOOD – Let's start with Romano Fenati's win; he was simply perfect from start to finish. We continue with Fabio Di Giannantonio's return to the podium and let's not forget the 4th place scored by Pecco Bagnaia in Moto2. Then applause goes to Danilo Petrucci for his fighting spirit and Andrea Dovizioso for his intelligence. That's enough for Misano.
THE UGLY–  Misery loves company. They started out in Moto2 in 8, but only 3 finished. We're talking about the Italian contingent, that suffered in the Misano rain. The most 'significant' crash was that of Franco Morbidelli, who sees his championship lead over Luthi reduced to just 9 points. He needs to get back on his feet at Aragon.
THE BAD – Those who feared an empty Misano due to Valentino's absence were proved wrong; the public was out in force and made its presence felt and heard. To an excess in some cases. What is the point in spending hours in the rain and cold, only to boo the very riders who put on the show? It would have been better if those people had stayed at home, or perhaps they should change sport. We definitely wouldn't miss certain folk.
THE DISAPPOINTMENT – The Misano ghost took the shape of Dani Pedrosa, who lived a 28-lap nightmare. His tyres refused to get up to temperature and the Spaniard was left with just one goal, to try and reach the finish. Closing more than two minutes behind Marquez, Dani's title bid seems to be well and truly over, it couldn't have gone any worse.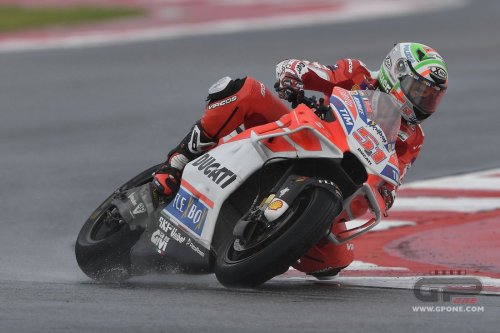 THE CONFIRMATION – We've known that Michele Pirro is a great test rider for some time, but it's easy to forget that he's also a great rider. He hadn't ridden the Ducati in the wet since biblical times, but at Misano he was able to put all kinds of riders behind him. It wouldn't be wrong to repay him with a few more wildcards.
THE MISTAKE – There's no harm in trying, but there is if you end up on the ground after building a five-second advantage. Lorenzo showed progress once again at Misano and his time will surely come, but being in a hurry proved fatal on this occasion.
THE SURPRISE  – The last time that Alex De Angelis rode a Suter was in 2014, he did so once again at Misano and reached the points zone. The San Marino rider clearly has a good memory.
THE PASS – It took just one, surgically executed. A master stroke by Marc Marquez, who cooked Petrucci over a low hear before swallowing him while. Hats off to the Spaniard, in practice he (too) often finds himself rolling in the gravel, but recently he's not put a foot wrong in the races.
THE INTERESTING FACT– The last 46 consecutive Moto2 races had been won by a Kalex, this sequence was finally interrupted by Aegerter's Suter at Misano. There's another interesting fact surrounding the Swiss rider, in that one of his helmets was stolen from the garage on Friday.
I TOLD YOU SO – Danilo Petrucci, looking at the weather forecast: "if it rains, I can take a risk, having less to lose than those at the top of the standings". Marquez obviously didn't realise he was one of them.