Michelin has prepared very carefully for the Misano GP, exploiting tests completed by the Honda, Ducati and Yamaha teams at the Italian track a few weeks ago. The French manufacturer introduces a new front solution, known as the 'Misano tyre', a medium compound that adopts the carcass used in 2016 but with a different profile.
The intention is to offer riders greater stability in braking and when cornering, and has been designed with the characteristics of the Misano track in mind.
There is another difference with respect to the past, with no soft tyres available, neither front nor rear, but instead two different types of medium tyre and a hard. In addition, front tyres will be symmetrical, while rears are asymmetrical with a harder right side.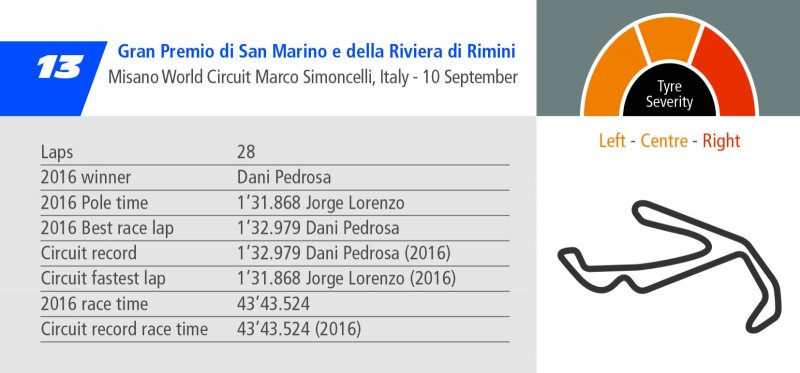 "Misano is quite a difficult and complicated circuit because it can generate high tyre temperatures as the bikes spend a lot of time at big lean angles" explains two-wheel manager Piero Taramasso.
"With 10-right-hand turns compared to just 6-left-hand turns, Misano is harsher on the right shoulder of the rear tyre. Last season we were very pleased with the performance of all the tyres, we broke some of the existing records – which we would obviously like to do again this year –  but the most satisfying thing was the consistency and durability our tyres showed on race-day in very hot and demanding conditions on an abrasive surface. We have recently tested at the circuit with many of the top riders, so have some good up-to-date data which will give us a solid starting point for the weekend. With Misano we start the last third of this exciting season and there is no doubt we will see a large crowd this weekend at the one of more spectacular battles for the championship."
Share