He may be a cannibal, but he's not unprepared: Jonathan Rea well knows that, to win titles, you also need to score solid results, like the second place in race 1 at the Lausitzring, where the Northern Irish laid down his arms only to Welshman Chaz Davies.
Johnny had a tough race, suffering a problem with his factory Kawasaki: "In the beginning and middle parts of the race I felt I had the pace to be with Chaz. Following him, I did not know exactly where I was going to be strong enough to make a pass to make my own race. Then I started suffering with the right hand side of my rear tyre. "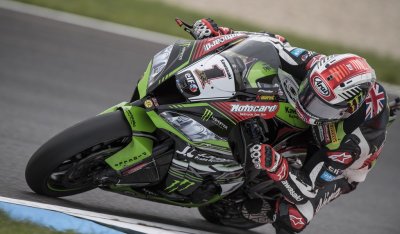 The world champion, using a soft Pirelli SC0 at the rear, started to lose ground to Davies: "I was starting to struggle to make the lap times and through some of the right-handers I felt on ice a little bit. I just had to manage my own race, and the guys gave me incredible pit-board signals. So I put all my effort into keeping a solid rhythm and preserving the tyre for the last laps."
Despite not being satisfied, Johnny retains his leadership over team-mate Sykes: "It has been such a tough weekend because of the conditions, and all the rain we have had. But the pace today was still much faster, on a green track, than last year's race, or even my race simulation during the test here in the summer break. Hopefully it will not rain again so much tonight. Until we all put our heads together and look at the data because today there was nothing I could do to win."