After the less than brilliant races at Laguna Seca, Marco Melandri has had time to rest, to train - as he always does - but also to reflect: the American round raised some doubts in the Italian's head, also proving how it takes continuous work to be at the top in SBK too.
If we observe him closely, number #33 seemed to be handing on a thread in California: "it's true you know -admits Melandri- in the morning, on a cold track, I was always fast. In the race, with 20 degrees more, the feeling was totally different and I couldn't ride my Panigale, it was really difficult to control".
Were you physically exhausted?
"Let's say that the situation didn't help; the bike continued to move right when I should have been resting; also, I was forced to cut the engine power. I was  out of breath and couldn't push any more".
In the meantime, it seems that the two factory Kawasakis have grown further…
"Yes; at Laguna, Rea and Sykes dropped almost a second a lap between Saturday and Sunday. I'd never seen such a big step forward".
In a few days' time you're at the Lausitzring, a track you've never raced at…
"Yes, I saw the German track for the first time during last month's test; I think the layout is great, aside from the last chicane, which to similar to a parking lot. The problem is that the surface is very pot-holed, making riding very difficult. In the wet, the grip is poor and the final turn before the straight is dangerous, seeing as there's an external wall without a run-off area. In rain the bikes aquaplane in fourth and fifth gear, I don't know if ìt's possible to race in those conditions".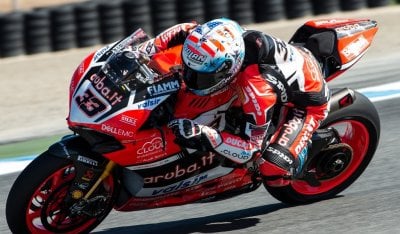 What did you like about those tests?
"I was able to understand a lot about the bike, I got confirmation of certain things and am sure I'll be more prepared for the various changes in weather".
What's your goal in Germany?
"Considering the growth of the Kawasakis and Chaz Davies' strength, I'd be very happy with a podium. Let's say that returning to the podium is my target, anything can happen though. I'll be fighting as always anyway".
Did you see yesterday's MotoGP?
"Dovizioso ran a crazy race and the Desmosedici really worked well. Andrea has a confidence, in himself and in his bike, that we've not seen before, he can do things he didn't dare dream of before, particularly in a head to head".
The Desmosedici with a V4 engine, do you think that's the ideal solution?
"For now it is. Our Superbike twin no longer boasts the torque that made the difference in races in the past, the V2 is no longer at an advantage. If Ducati is working hard on the V4, it means that it sees greater possibility in terms of performance and future development".
Do Ducati's results in MotoGP also influence you in Superbike?
"No, the MotoGP and Superbike teams are two independent structures. Let's say that team Aruba is very pleased to see the great results being achieved in MotoGP and that spurs us on to do ever better. We know how hard the MotoGP team is working to stay at the top, but the Superbike guys are also committed, working hard, tirelessly, and we all know that we too can achieve great results".