How many riders fighting for the title would have risked it all for an almost impossible attack through the final turn? Definitely one: Marc Marquez. He attempted that very move on Dovizioso at the Red Bull Ring.
"On the last lap I thought about everything, except the championship - he jokes - I tried because if I hadn't I wouldn't have been able to sleep easy. This is a very hard-fought championship and every point is fundamental, a win would have been important. I didn't make it this time, but I'll try again next time".
Marquez, during the practice sessions, appeared to have better pace but things didn't go quite to plan come the race.
"I think the track was about ten degrees hotter and I struggled more with the tyres - he explains - Especially with the front, in fact at one point I considered putting in the hard but I hadn't tested it this weekend, so it would have been too risky".
He realised that to fight Dovizioso he would have to dig deep into his repertoire.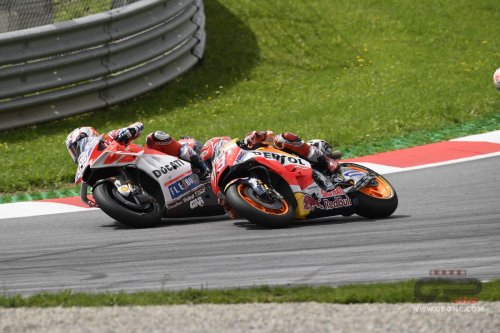 "Andrea was fast, a little more so than me and that made the difference - he continues - We've improved the Honda's acceleration but at the same time I suffer in braking. To stick with Andrea I had to exploit my speed through the two left-handers, that I took like I was on a dirt bike. It was a crazy race, we were going at 330/hour with only a couple of fingers' width between his fairing and mine. I even came into contact at the second turn".
When he hears this, Dovi shakes his head, smiling: "so that's what happened". Marquez didn't hold back.
"I was able to ride that way because I've regained confidence with the bike, I can understand its limit. Without these sensations, I couldn't have tried to attack - he underlines - I was at the limit, but Andrea closed all the doors and that was my only chance. Unfortunately he understood my move".
Marc is still leading the championship with Dovizioso 16 points behind. "My philosophy for the next race is the same as always, to take as many points as possible"-
PEDROSA: PROUD OF THE TEAM AND THE RACE- Even if he couldn't take part in the show, Dani Pedrosa leaves Austria happy, having also reached the podium.
"I was able to get closer when Marc and Andrea was holding each other up but then they got back into a rhythm and were faster than me - he admits - But I'm proud of the team and my race, it was a difficult weekend, I started 8th but caught up well".
Dani also had to deal with the tyres.
"The rear was sliding a lot and the front tended to lock up, I risked crashing 3 or 4 times" he concludes.