To understand whether Valentino is satisfied with his weekend, both free practice sessions and the qualifiers need to be placed on the scales. Compared with yesterday, Rossi had started the day (using the new fairing for the first time on a GP weekend) much better than yesterday, but in the decisive session something did not go right.
"I had started well in the morning. We managed to improve the bike's balance and to be rather competitive - he recounts - Then, in FP4 I had maintained a good pace and I felt fast with the soft tyres."
Something, however, that did not happen.
"The second tyre did not work well. It slipped too much in acceleration - he explains - Unfortunately these are things that sometimes happen and there is no way to know that until you put it on. Without that problem, I would most likely have been able to stay in the top 5 or even on the front row."
Instead, you will have to start from the third row and this is obviously never an advantage.
"Especially on this track - the Doctor muses - Anyway I have a good pace and the rear tyre choice will be crucial. Everything will depend on the temperatures. Right now any choice, from soft to hard, is open. Last year, Iannone took a gamble and it paid off, just like Dovizioso did today in qualifying, choosing the medium."
And there are many rivals.
"As for me, I see a situation similar to last year - he says - In fact, I think I am closer to the Ducatis but on the other hand, the Hondas have taken a bigger step forward. In 2016, Marquez probably paid the price for both his injury and for not having done the tests before the GP. I know this is not the best circuit for the M1, but as I said, we are not far off."
But who is the most dangerous rival?
"Marquez and Dovizioso, with Marc having a slight advantage - he replies confidently - For third place I am there along with Lorenzo, Viñales, Zarco, Pedrosa, Iannone, Petrucci… in short, a lot of riders. But this is the situation so far. The predictions may not necessarily come true. Maybe tomorrow Andrea and Marc will not make the difference. I remember that last year the first 10 laps were fantastic. We were all very close to one another."
Today Valentino also did not wait any longer to put on the new fairing in FP3, a move that Viñales then copied in the afternoon.
"I did not think that this track was the best to use it on, but I had to change my mind. I liked it straight away. It helped me reduce the tendency to wheelie" he explains.
It seems like he is once again the technical guide for Yamaha.
"If I am Maverick's tester, then tomorrow he needs to let me go ahead - he jokes - I think that Viñales simply does not have much experience on this bike yet. In my career, I have demonstrated that I am an excellent tester and if Yamaha listens to me, things will go better", he concludes with a smile.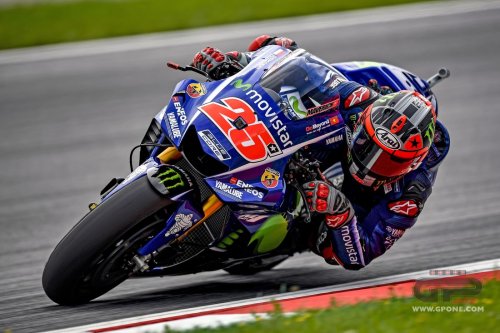 VIÑALES: I THOUGHT WE WERE FASTER - Things went slightly better for Viñales in qualifying with 5th place, but the second row is never entirely satisfying for him.
"I'll be honest, I thought we Yamaha riders were faster - he says - Valentino and Lorenzo had done better last year. Our rivals have taken a step forward on this track, but we haven't."
Maverick is particularly satisfied with the new fairing.
"I must admit that in Brno I had not seen any big differences, but after Rossi used it and did better, I decided to use it too - he explains - It provides advantages, especially in acceleration, without changing the way the bike behaves in turns."
However, not everything is sorted.
"We still need to work on the electronics. In the first and third sector I am losing 3 tenths each", he points out.
Share