Valentino Rossi did not get off on the right foot for the GP of Austria. After the Brno tests, he had built a little castle of certainty for himself which, however, crumbled on the Red Bull Ring. Not much went right today and the 13th final time is demonstration of this.
"It was a difficult Friday - he sums up - I expected and hoped to be more competitive, but in the morning the bike did not have good balance. Also, coming back from Brno, I spent two or three days down with the flu. I felt all stuffed up with a headache."
In the afternoon, the situation improved slightly.
"Both physically and on the bike - he explains - but everything was not perfect. In fact, I am still far from the leaders. What's more, all the ranking riders were fast… except me", he says ironically.
Fortunately there is still time to work and tomorrow the forecast is calling for fair weather.
"There are corners where I was fast last year, but today I struggled - he continues - I also have rear sliding and that makes me lose top speed on the straight. In short, we have work to do and tomorrow FP3 will be extremely important. Today I was just barely unable to stay with the top 10, but it is also true that I made a few mistakes riding when I put on the new tyre."
Perhaps the new fairing, tested in Brno, could help but today neither he nor Maverick used it.
"It could actually be useful, especially in acceleration to decrease the tendency for wheelies - he admits - I don't know if it will be possible to use it and homologate it. When I left the garage they were working on it. We'll find out later."
In the meantime, his rivals are trying to pull away at the front. Ducati was expected, but Honda astonished.
"That is the bike that has taken the biggest step forward since last year - he says - Neither Marquez nor Pedrosa put on the soft tyre at the end of the session and yet they were fast."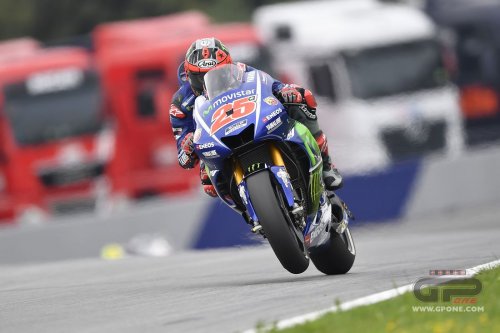 VIÑALES: I REGAINED CONFIDENCE ON THE YAMAHA - Viñales is in a diametrically opposite mood, just 2 tenths behind Dovizioso. Maverick regained confidence on his M1 and the results can be clearly seen on the time sheets.
"The situation is much better than in Brno - he assures - There is still some work to be done, especially on the electronics, but I am happy because the M1 is working well. I regained confidence both in braking and going into turns and I have a setup that lets me take full advantage of the bike."
In any case, the Spaniard does not underestimate his nearest rivals in the standings.
"We'll all be there and Valentino will get there too - he predicts - They are all dangerous, Dovizioso as much as Marquez."
His final comments are on the safety of the circuit.
"They changed the garage exit so now there is more space. As for the track, with the speeds that are maintained, all the walls are a bit too close, but I think there are 3 dangerous points."