There is still no provisional calendar for next year, although it would seem that the number of World Grand Prix Motorcycle Championship races is destined to increase to 19. One of the dates that was at risk the most was Barcelona, but over the last few days, the track owners have assured that they will proceed with resurfacing and expanding the escape lane on turn 12 so that the classic bike layout can be used for the races instead of the Formula 1 layout.
The round that should be added to the current calendar is Thailand, although it is still not official. In fact, a provisional calendar has been given to the teams for the tests and the Buriram circuit is indicated as one of the three stops, taking the place of Phillip Island.
The winter tests will therefore begin in Malaysia on 28 January, and then it will be Thailand's turn from 16 to 18 February and finally Qatar from 1 to 3 March.
There is also a date for the season opener: scheduled for 18 March (about 10 days earlier than last year), as always with the night race in Losail.
In Qatar there will be no more tests for the Moto3 and Moto2 classes, which will be done in Spain with 6 days of testing in Jerez and 3 in Valencia.
THE PROVISIONAL CALENDAR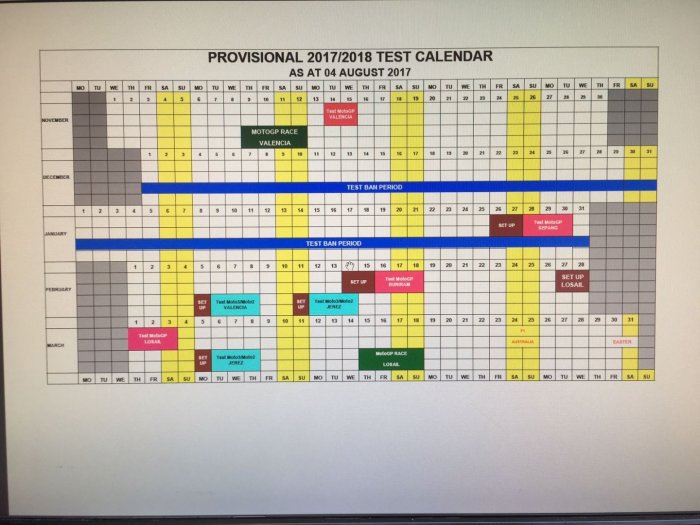 MotoGP
Janaury 28-30 Sepang Tests (Malaysia)
February 16-18 Buriram Tests (Thailand)
March 1-3 Losail Tests (Qatar)
Moto2/Moto3
February 6-8 Valencia Tests (Spain)
February 12-14 Jerez Tests (Spain)
March 6-8 Jerez Tests (Spain)
Championship start: 18 March Losail (Qatar)