Jorge Lorenzo only needed to complete a few laps with the new fairing introduced by Ducati to open a wasps nest in the MotoGP paddock.
The controversy regards both the new aerodynamics and the timing of their unveiling seeing as the current regulation prevents its rivals from fighting back, with teams only able to homologate two fairings during the course of the season.
There is debate as to whether the latest version of the GP17 doesn't in fact reproduce the 2016 'double wing', with a simple and minimalist external cover.
"No comment", states Romano Albesiano, the Aprilia Racing boss, who then goes on when asked for an explanation. Albesiano actually has a degree in aerodynamics.
"Ducati's work is extreme and goes against the spirit of the regulation - protests Albesiano - in reality, the other manufacturers have covered the aerodynamic appendages, in practice they have connected them to the fairing. Ducati has gone further - their fairing is to all effect a double fairing. This isn't what the regulation intended. They should have come up with a new shape, as we have done with the RS-GP fairing that Sam Lowes is using. It's all-in-one, not just covered winglets that are separate from the original body".
Dall'Igna says that with this solution they have recovered 40% of the downforce obtained last year with the external wings.
"It's true, maybe more. That's also true for us. But the spirit of the regulation was to create a new aerodynamic shape for the fairing".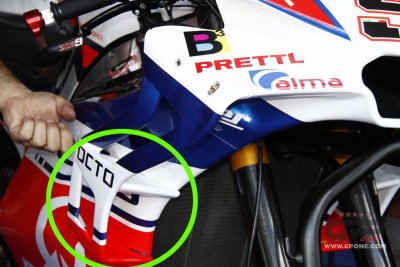 Also, Ducati hasn't homologated the fairing seen on the GP17 of Lorenzo, or that taken on track today by Danilo Petrucci, which is 'triplane'
Tardozzi explains: "We have homologated the 'triplane' shape, which has three internal aerodynamic appendages. And seeing as the regulation prevents us from adding elements, not from taking them away, we can both the two and three-wing versions".
Yamaha, considering Kouji Tsuya's words yesterday, has already realised that the Ducati trap has sprung. The devil is in the details.
Share