One of the two Lowes brothers (identical twins) Sam's career, just like Alex's, has taken him from British Superbike to the most important championships, passing through Supersport, a category where the Brit won the well-deserved 2013 title.
Sam rode a Yamaha R6 for team Yakhnich and he recalls the experience with great satisfaction: "After two years on the Honda CBR, I moved over to Yamaha - Lowes recounts - which had instilled a great feeling in me right from the first test. The bike was fantastic, the team gave me great support and beating everyone, including the most victorious in the category - Kenan Sofuoglu - was absolutely brilliant. Winning the title gave me a lot of self-confidence."
It was a title that opened quite a few doors for you. Why did you choose Moto2 and not SBK?
"Excellent question. I was supposed to go to Superbike, but my heart's desire was to ride in the Grand Prix races and I knew that I would be able to do well in Moto2. It was not easy, because in the paddock, Supersport riders were not very highly regarded, but after a year of experience I improved in the following years, until I was winning races and competing for the title. Last year I had a real shot, but I missed it. In any case, I am very pleased with the results achieved."
You know Zarco and you have beaten him several times. Now he is doing well with Tech3. What do you think of him?
"Johann is doing an incredible job. In the same situation, I could be like him. I like Zarco and I appreciate his hard work. I respect him and I think he is really doing great things, considering the fact that he is a rookie."
You also know Crutchlow who, like you, won the World Supersport Championship...
"Especially in the last two years, Cal is demonstrating some fantastic stuff, winning two Grand Prix races and often battling for the podium. Crutchlow is an example for me, because he came from the SBK paddock and his first two years were not easy. His first year, Cal was not very fast, but he worked hard and now he is at a high level. Seeing what he has accomplished gives me confidence."
What is it like going from Moto2 to MotoGP?
"The acceleration and power of the MotoGP bike strikes you straight away, but that's not the only thing. The braking you can do with the carbon system is incredible. With the MotoGP bike you have to adapt your riding style. You learn a lot from a Moto2 bike, but with the MotoGP bike you work a lot more on the settings and all the riders are very fast."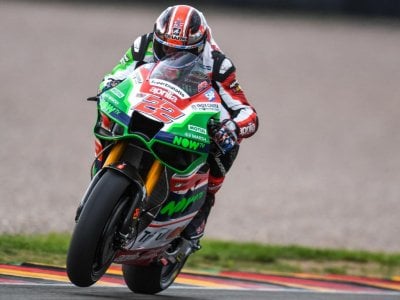 You are a rookie and you're struggling a bit. What do you need to be fast?
"These last races were better than the first. This summer break is a good chance to work with the team and I think that after the summer we will be able to achieve better results. I need to evolve my style in the braking phase. In Moto2 you can slide around a lot more than you can in MotoGP. With the electronics and the Michelin tyres, I need to revamp my riding style and I need time to adapt. In Germany I crashed, but my pace was just two tenths slower than my teammate, Espargaró. We are definitely moving in the right direction."
Aleix has more experience. Does that help you to grow?
"He is a good teammate and he helps me in a few situations. His level is very high and he supports me, especially during the tests. During the race weekends it is more difficult because there is a lot of pressure and we are each focused on ourselves."
Espargarò is making good progress. What is the Aprilia RS-GP lacking to finish on the podium?
"We are optimistic for the next race in Brno, where we will have some engine evolutions. We will be able to take another step forward and in the race we will be able to overtake and duel more easily. Thanks to the constant improvements and the evolutions made to the frame, it is difficult - but not farfetched - to think that Aleix could duel for the podium on a few tracks like Brno or Phillip Island, for example."
You have been racing for team Gresini for years. How is your feeling with them?
"I have a contract with the team and with Aprilia for 2018 as well and I am very happy, because in MotoGP you need time to adapt and improve, so staying on the same team is important to show your potential. Next year it will be easier for me, because I'll know what to expect."
What do you think of Fausto, your team Manager?
"I think Fausto is a really good guy. He is like a brother in the paddock. He is very passionate about this work. Gresini manages the team in the three Grand Prix Motorcycle Racing categories and I must say that it is not an easy thing to do. Fausto and his team are helping me to improve in every aspect."
Do you ever imagine being on the same team as your brother Alex?
"Yes, of course! We are very close and we compare notes a lot. He is my brother and at the same time he is my best friend. In the same garage, he and I would be fierce rivals and both of us would try to do better than the other. All of this would be fantastic in MotoGP or in Superbike."
Speaking of which, have you received offers from the factory derivative championship?
"I've had some offers. There were rumours that we were leaving MotoGP, but I have a two year contract and I want to see it out. I'm a rookie and I was faster than last season's Aprilia riders. My situation is not as bad as some would try to depict it and I am improving every day."