He was supposed to have raced for the second year in a row in the American MotoAmerica championship but instead, the 2017 starting grid has still not seen Italian Claudio Corti, who just turned thirty years old, taking a "forced rest" with the engines already up to temperature for some time now.
Claudio himself reveals the reasons for his absence: "We lost a sponsor, Piaggio USA and Aprilia decided not to support the HSBK team any longer - explains 'Shorts' - so doing some races 'just because' would have been pointless. It's a pity, because the project was interesting and my personal sponsors, who have always helped me, believed in it. Instead…"
Last year you did very well. How is the level of that championship?
"High, and I think I would have done well in the USA this year too. The brand that did the best is Suzuki. The new Suzuki GSX-R is officially supported by Yoshimura, who have given Tony Elias and Roger Lee Hayden a truly competitive bike. Elias, who won a Moto2 title and a race in MotoGP, is no surprise, but Roger Lee had never been so fast."
Speaking of Roger Lee Hayden, Claudio's thoughts obviously turn to his late brother, Nicky: "I still can't believe that Hayden is gone - Claudio is astounded - It seems so surreal and I still have trouble believing it."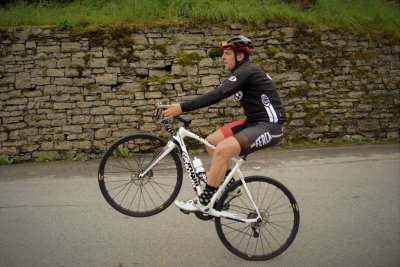 Just as Nicky did, you train on a bicycle…
"I train a lot on the bicycle and the only thing I can say is that, every time I go out, there is always an argument to be hand and I have to be careful. I am training to stay fit. I have a cross bike and I feel ready to get back in the saddle."
Not long ago you tested the Pedercini Kawasaki Pedercini. Did they make you an offer?
"No offer. I tested the team Pedercini Ninja because the team had found some chassis architecture problems. I found a really fast Ninja, but I don't know what the level of their ZX10RR is without testing the other Superbikes."
On some tracks, SBK matches or even improves on MotoGP times…
"With the sole-supplier ECU, MotoGP has had a drop in performance but that is a good thing because it is all to the benefits of the show. If we calculate the money spent and the strictly technical aspect, SBK is too expensive today. There are super factory teams like Kawasaki and Ducati who win the races. Names like Yamaha and Honda are missing from the list. The R1 has been developed for two years, but it still has not won a race. The CBR, completely new, but it arrived lat, has still not shown its full potential."
There is a ride available on a Ten Kate Honda… interested?
"Jake Gagne  was at Laguna Seca, called up by Honda America and Red Bull, but… Hayden's Fireblade is a hot seat. Getting on that bike represents great responsibility but, I'll be sincere, if they were to call, I would not hesitate to go."
Have you received offers in the meantime?
"I had an offer to race in Brazil, where I would have found Alex Barros, but I would have raced free and I turned it down. I have a contact with Mirco Guandalini to return to the World Championship, where it wouldn't cost me anything and I wouldn't be paid. It is absurd. They pay the umbrella girls and for mega catering, but I don't understand why they don't pay the riders."
Dorna is pushing for a SBK closer to factory bikes. What do you think?
"That is the right decision. Superbike has strayed too far from the factory product and they should have thought of that earlier. With less exasperated regulations, the manufacturers would be more involved and it would make it more spectacular because people don't care about lap times. You don't notice 10 seconds on TV or even in the grandstands. The fans want races and a show, not records."
So what would your winning recipe be for SBK?
"To move closer and closer to stock bikes. Limitations to engine mods and less changes to the chassis architecture. No prototype swingarms, less of the expensive frame modifications and I would keep the electronics, which have made the bikes safer, but I would want them to be less powerful and less sophisticated."