A tragic accident occurred yesterday on the number 31 road in Poggio Piccolo, Castel Guelfo. Cristiano Lucchinelli, 36 years old has passed away after colliding with a car while riding his motorcycle. Cristiano is the son of Marco Lucchinelli, 500 world champion in 1981 with Suzuki.
According to initial information, it appears that Cristiano was riding along via Poggio towards Castel Guelfo, probably returning home, when, for reasons as yet unknown, he crashed into a Range Rover that, coming from Castel Guelfo, had started to turn left onto via dell'Industria, one of the roads in the industrial area of Poggio Piccolo.
Writes Il Resto del Carlino.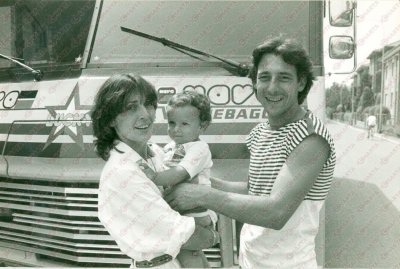 To dear friend Marco Lucchinelli, our hero of the post-Agostini era. The star of so many duels with Kenny Roberts, the unforgettable team-mate of Barry Sheene and to mum Paola, we at GPOne.com send you our deepest condolences.
(In the image above: Marco Lucchinelli, recently introduced into the MotoGP Hall of Fame, with Carmelo Ezpeleta. Left: Cristiano as a baby with Paola Dal Pozzo and Marco in the Continental Circus days)