Lorenzo Baldassarri will not race in the Grand Prix of Holland, but that is the least of his worries considering the violence of the crash he had during the Moto2 qualifiers.
'Balda' was finishing his 6th lap and had the fourth best time when, coming out of Ramshoek, turn 15, a fast, 200 kph left-hander, the team Forward rider touched the wet kerb with the slicks he had mounted on his Kalex.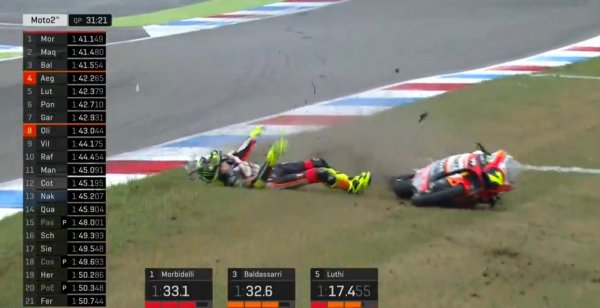 The crash was inevitable. A highside that shot him into the air. The impact with the asphalt was extremely violent, so much that the rider lost consciousness immediately, rolling into the escape lane on the inside like a rag doll, remaining immobile as the track marshals rushed to his aid.
Given the violence of the accident, the session was immediately red-flagged. The rider was immobilized straight away and taken to the medical centre, but he was already conscious and alert.
In the Van Drenthe medical centre, he underwent further checks and, comforted by the presence of his mother, Giorgia Giorgini and team Forward boss, Giovanni Cuzari, Lorenzo even found the strength to joke. Subsequently, he was taken to the Groningen emergency room, 30 Km from the circuito, where he had a CT scan which came back negative, whereas radiological images of his left ankle are being assessed.
He will remain in hospital under observation for the night and will probably be released tomorrow morning.
Share