Several tried to stop Kenan Sofuoglu, but the current world champion put on the perfect performance, proving once more that he is the man to beat in Supersport.
In the first laps of the race, it was championship leader Lucas Mahias (now only 5 points ahead of Sofuoglu) who tried to contain the Turk, but the Frenchman soon crashed at the Rio turn, waving goodbye to his race and a good part of his championship advantage. At this point, it seemed the road was clear for Kenan, but Jules Cluzel brought the pace he'd shown in practice to the race, closing the gap and moving ahead of the Turk. In the final stages though, the Frenchman dropped back, having to settle for second. Federico Caricasulo completes the podium, honouring his home race with an intelligent ride, obtaining the maximum possible. In the final stages, PJ Jacobsen tried to fight the Italian for the podium sport, but the gap was too big to attempt an attack, meaning that the American had to settle for fourth place.
Behind him, Kyle Smith on the Honda, followed by Gino Rea and Axel Bassani. A great return to the series for the Italian, who spent the entire race inside the top ten. Finishing outside of the top ten were Alessandro Zaccone on the MV, while Roberto Rolfo had to settle for an 18th place finish.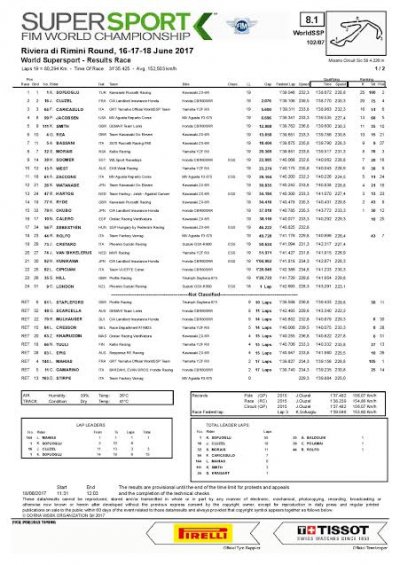 Share