Today's Ducati Superbike win was a little different. The numbers explain is all: since 1988, the first year of the championship, the Borgo Panigale bikes have clocked up 333 race wins, with Melandri's first win at Misano the 100th for an Italian rider, achieved at an Italian track. The last Italian to win with the Ducati at Misano was Pierfrancesco Chili in 2004, riding a yellow 998.
It might seem like a coincidence but it isn't. The Bolognese company works hard, day and night, and the race department follows its MotoGP and Superbike projects with the same goal it's always had- to win races and championships - without altering its philosophy: "after a tough day yesterday, we needed this result - says Ernesto Marinelli happily- because Chaz's accident scared us, right up until the last minute, we didn't know what to expect. Then Melandri also crashed on the last lap. An incredible Saturday, followed by a great Sunday: we've got Marco winning again and have done so in Italy. This is a really great win, something special".
And yet, up until the last race, you were in trouble…
"The test carried out here ten days ago helped us understand some aspects of the bike, we worked on weight distribution and got rid of the hopping that was bothering Marco. Now he's more confident and we're on the right path".
Will the critics now stop saying that only Davies can win with the Panigale?
"I think the races are always difficult, we've done great work with Chaz, he's fantastic in his riding and has different requirements to Marco.  Having now won with Melandri too, we know both are capable of doing that".
Davies was in the garage with you, how is he?
"Chaz will see a specialist tomorrow and then we'll know how long he needs to recover and whether he can be ready to compete at Laguna Seca. A normal person would need about 20 days to recover, but Davies isn't normal, so we hope to have him in America for the next round".
To whom do you dedicate Ducati's 333rd win?
"I dedicate it to Ducati itself".
Aligi Deganello, Melandri's crew chief, is also very happy: "finally Marco's done it - exclaims Aligi- after an interesting start to the season, Melandri had a tough period, but after the Misano test we found set-up solutions that he like, and the highly anticipated result has arrived".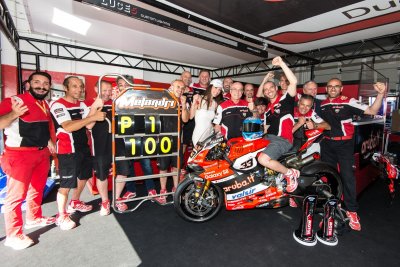 What kind of bike does Melandri want to ride?
"Marco is small, similar in stature to Pedrosa; so he obviously can't ride the same way as Chaz. In testing we understood many things and he himself raised the issue of riding style. As I said, he's small and wants a neutral weight distribution, and we've given him that. He's very strong in acceleration and now he's put it all together".
Melandri has been much criticised…
"Yes, I'd heard it all before we worked together. I've noted though that he is very honest and sincere, he tells you how it is, good or bad. I like working with him because he's honest and sincere. he needs to be understood. Today's win shows that we can also win with him, so used to the four cylinders but now a winner with the twin too".