Tom Sykes was able to win his second race of the season at Misano, doubling up after that already achieved Donington, bringing his ZX10RR to the top step of the podium, alongside Alex Lowes and Johnny Rea.
The Kawasaki rider was fourth on the final lap, when he was unexpectedly helped by a series of incredible episodes: "Today's was a very rtough race, but we won, taking 25 points and profiting from the circumstances - admitted Sykes-  but the races are always all about circumstance, I was fast at Donington too, despite the inverted grid. Today I won again and it's like getting a gift".
You profited from the incident between Davies and Rea, and a crash for Melandri...
"Yes, they were involved in a terrible accident, I saw the scene and it was bad. I could barely believe it when I saw them crash. I hope Chaz is ok and can take part in tomorrow's race. Melandri crashed too and I said to myself 'go on'. I'll be changing something for race 2, because the track conditions have changed and are more difficult ".
Rea was the unwilling star of the incident with Davies but, while the Welshman didn't get up, the Northern Irish rider continued the race and reached the podium: "my plan was to attack Davies at the final corner - reveals Rea- but he made a small mistake, losing the front and I, right behind him, couldn't avoid him. I apologise to Chaz and am really sorry for him".
You got back on and finished third, have you ever done that before?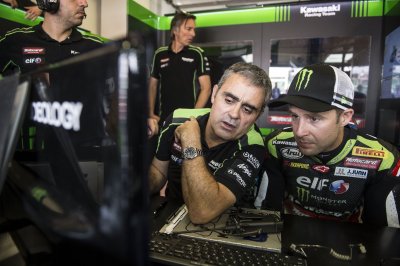 "I don't remember a race in which I've crashed and then achieved a podium result. Maybe it happened in a wet race at some point, but maybe not. When Van Der Mark crashed I had to exit the track, we were very close and risked contact but that didn't happen. It did with Davies though and it was a real shame because we were both fighting for the win".