As if the problems with Suzuki and the on-track battles with his rivals were not enough, Andrea Iannone is also having to put up with the gutter press. Novella 2000 magazine sustains that girlfriend Belen Rodriguez is not welcome in the garage during races, especially since the Mugello race where she was wearing skimpy clothes and brought friends along.
"To be honest, I think Belen is more welcome in the garage than me - jokes Andrea, who has heard the gossip - In the end it's inevitable as we're two public figures and she especially is very well-known and often talked about".
Do you grin and bear it?
"That's how it is, when the results are not there they blame her but I let people talk, they can think what they want".
And then?
"this situation will blow over, it's not the first time I'm in difficulty and I'll no doubt get over it. Then people will change their minds".
Is this season start with Suzuki worse than that with Ducati in 2013?
"No-one remembers that season any more (he laughs) I can say that it was more difficult back then, then the following year Dall'Igna arrived and things changed for the better. We were able to turn the corner, and be consistently faster".
Other similarities?
"With Ducati there were more bikes on track, unfortunately this year I was left on my own. Guintoli tried to help in recent races, but his riding style is too different to mine. I'm pleased that Rins is back, I think we can do a good job together. We spoke after the Barcelona test, with two of us we can do a better job".
How were the tests by the way?
"Not bad, we understood a lot of useful things as we work to resolve the situation we're in. I know Suzuki is working really hard".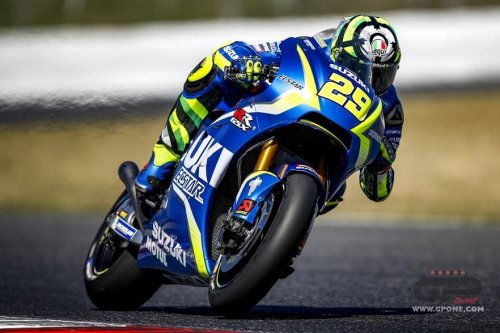 You had a new frame…
"It's very similar to what I was using, it hasn't revolutionised the bike, but it has interesting aspects. I may use it at the Assen race".
Where are you in terms of adapting to the bike?
"I'm trying to do it as well as I can but, for now, however I ride the problems remain and the data shows this. I can't push in braking and we have problems in acceleration, but then the bike works well in corner entry and mid-turn".
How do you get out of the tunnel?
"As I've said, Suzuki is doing all it can and so am I, though at times it isn't easy, believe me. Unfortunately I can't force in braking and if I do I crash, this is why I have to be careful because it's important to finish the races".
Do the tyres play a part?
"If they continuously change then this definitely complicates things, but that's the case for everyone. I don't blame Michelin, they worked well last year and are making significant progress".
So you need to focus on the GSX-RR…
"Everyone in the garage is giving 110% and I can guarantee we'll come through this. We just need to be calm and patient, giving the engineers in Japan time to work, we're not just talking about changing a subframe… some things take weeks of work".
Is the key to improve the braking?
"I can't brake as I'm used to doing right now, or I'd lose the front. It's a delicate situation to resolve, it's not easy, a great deal of testing is required".
How long will we have to wait?
"I can only say that I believe in this team, in this company and in this project, the bike is an incredible base from which to begin. I just need to gain confidence in my riding and we'll be competitive once more".
Share