The king is back and has done the triple. In a race interrupted as a result of oil on the track and subsequently shortened to 13 laps, no-one was able to keep up with Kenan Sofuoglu, who took the lead at the first corner before setting a pace that proved impossible for his rivals to match.
Championship leader Lucas Mahias crossed the line second, having done well to limit the damage and winning the duel in the final stages against fellow countryman Jules Cluzel, third. Just missing out on the podium was Triumph, with team-mates Stapleford and Kennedy in fourth and fifth place, followed by Morais, West and Smith. The top ten was rounded out by Okubo and Francis, while it proved to be a race to forget for the Italians.
Donington has also proved disappointing for MV: the Italian manufacturer saw only Rolfo reach the points zone, after PJ Jacobsen's bike suffered engine problems during the red flag break that meant he was unable to start the race.  Cardelus Garcia's bike, or rather the one that caused the red flag, leaving oil on track after a breakdown, was also an MV.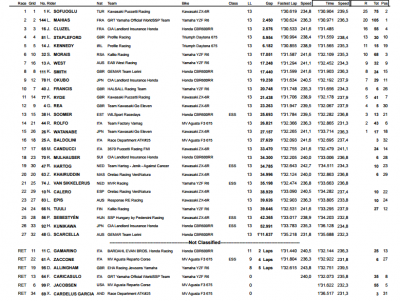 Share