The second race of the Donington weekend perfectly highlighted the qualities that a  two-time world champion should have: at rival and team-mate Sykes' favourite track, after the crash yesterday, caused by the rear tyre, and another in warm-up this morning, Johnny Rea kept his cool, got away quick and after making a couple of passes, set a pace that would see him score his eighth win of the season.
Rea put the win together in the opening laps; aware that the tyres on his ZX10RR (forced to use the SC0 at the rear after yesterday's issue) would struggle in the later stages, Johnny really put his talents into good use, going back to his roots and riding the bike MX style.
Seeing that his advantage over Sykes was narrowing lap after lap, Rea set an incredible time on the final lap before wheelieing over the line: "I'm so pleased, my first lap was the best of my entire life -reveals Rea- and I realised I could win during warm-up". This was win number 100 for Kawasaki in Superbike, that scored its first title with Scott Russell in 1993 while Rea is on the road to his third consecutive victory, which would mean 4 in a row for the Akashi brand considering Sykes' 2103 title.
Tom couldn't really answer back, or rather second is a great result but he is used to more at Donington, having won the last nine consecutive races. Davies also did all he could: contact beween Haslam and Mercado also affected Chaz, who was forced to run onto the grass. Once back on track, he had to play catch-up fro eleventh place, reaching the third step of the podium. Not the result the Welshman wanted today, but considering what went down in the race, he can be satisfied.
Van Der Mark was forced to give in to Davies's attack and, with Lowes behind him, the two Yamahas closed fourth and fifth, followed by Leon Camier on the MV Agusta, sixth, ahead of the two Spaniards Fores e Ramos, riding the Ducati and the Kawasaki.
British wildcard Jake Dixon did well to finish ninth with the Kawasaki of the Royal Air Force. Tenth for De Rosa with the BMW, Bradl, Russo, Jezek and Badovini rounded out the points zone. The race saw a number of crashes and retirements, including those for Melandri and Savadori, who both suffered technical problems. The tests planned for Wednesday and Thursday at Misano will prove important.
Championship standings: Rea 260, Sykes 205, Davies 185.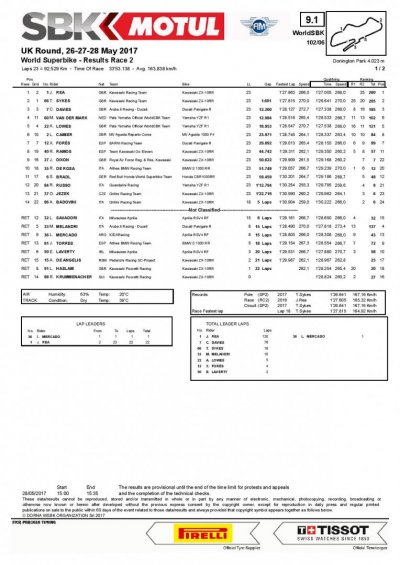 Share