This afternoon's Safety Commission at Le Mans had a particularly interesting item on the table, regarding which front tyre it will use from the Mugello GP onwards. The decision was taken between the current tyre, with the softer carcass, and the 2016 version, with its stiffer construction.
The choice came down to last year's tyre, known by its code, 70, and all riders will use it at the Italian race and for the rest of the season. As we've said, the decision's been taken, though no official notification has yet been issued, and probably won't be.
Dorna, the championship organiser, decided to publish the news via its official website, with a video rather than a press release. No press conference is planned either in a change to the usual way of doing things.
The biggest issue is that the videos, in which Race Direction member Loris Capirossi and Michelin boss Nicolas Goubert speak about the decision, cannot be viewed free of charge and are only visible to those who pay for a video pass.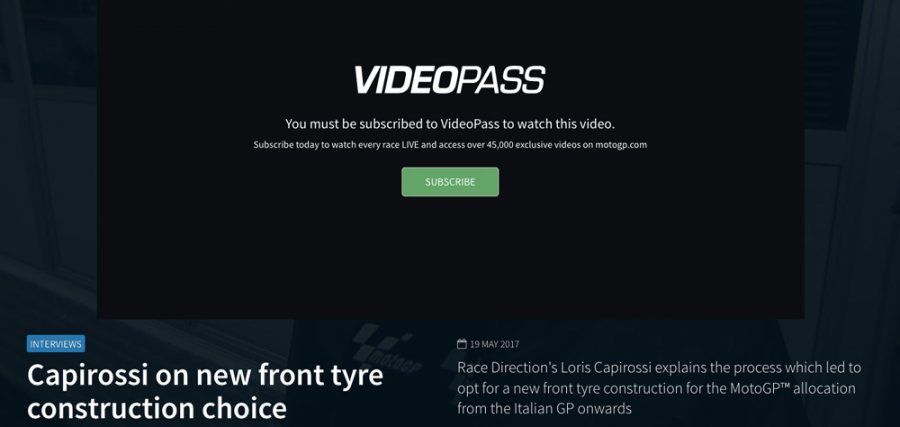 So the news is there, but only for those willing to part with a few euro. It's clear that this way of operating cannot be justified when we're talking about a technical modification that should be clarified with a simple press release. Free of charge.
We care too much about our readers and don't want them to have to pay to see the latest news, so here are the statements.
Loris Capirossi: "we took a vote and out of 23 riders, 20 chose the old tyre, so we have gone with the majority".
Nicolas Goubert: "Dorna wanted all riders to test the 70 tyre at Jerez and, as confirmed by the majority of riders, it offers more stability and less movement through the turn. It's a small difference, unlike that of 2016 when we changed the profile, I'd call this simply an evolution".
UPDATE. Strangely, Dorna, after we published this video, decided to make the videos free. Better late than never...