In pairing Vinales with Rossi, Yamaha appears to have created a real Deam Team. On the one side, there's Maverick's youth, on the other side Valentino's experience, with both displaying equal talent.
Both reached the podium in Qatar, the Spaniard winning with the Italian finishing third. In doing so, both wrote a new page in motorcycling history.
In reality, Rossi is the history of this sport, as shown by the figures. In Argentina, the Doctor will become the first rider to have competed in 350 Grand Prix, it will be MotoGP race number 290 for him, added to which he has 30 250 races and another 30 in 125.
No-one has ever reached this number and even a highlander like Capirossi stopped - so to speak - at 328. Of those riders still racing today, Pedrosa (260), Dovizioso (259) and Lorenzo (251) have also reached record numbers.
The interesting thing is that since the championship began in 1949, 888 GPs have taken place, with Valentino having competed in 39.4% of these.
As we've said, Vinales is also starting to write his name in the record books, already adding a page after the latest Qatar races. On winning at Losail:
- he became the second youngest rider in history to win races with two different bikes, after Mike Hailwood (who did so with Norton and MV Agusta);
- he is the fourth rider in history to have won with both a Suzuki and a Yamaha in the reigning class, along with Barry Sheen, Randy Mamola and Jack Middelburg;
- he is the fifth rider to have won in MotoGP with two different bikes, before him there was: Rossi (Honda, Yamaha),  Max Biaggi (Yamaha, Honda), Casey Stoner (Ducati, Honda) and Andrea Dovizioso (Honda, Ducati);
- he is the first rider to have started from pole in Qatar in Moto3, Moto2 and MotoGP;
- he is the fourth youngest rider to have won a GP in the reigning class with Yamaha after Norick Abe, Jorge Lorenzo and Johnny Cecotto.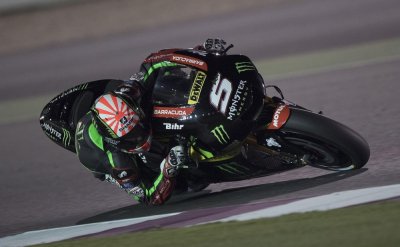 Continuing with the numbers and we stay with Yamaha, and Johann Zarco. The Frenchman impressed during his first MotoGP race, also setting some records of his own:
- he is the first French rider to have set a fastest lap in MotoGP;
- no Frenchman had set a fastest lap since 1989: on that occasion it was Christian Sarron in 500 in the Swedish GP. Before him, only Michel Rougerie (1978 Belgian GP) and Pierre Monneret (1954 French GP) achieved the feat;
- he is the first rider to have led a race on his debut appearance in MotoGP,  Max Biaggi did so in 500 and Noriyuki Haga in the 1998 Japanese GP;
- he is the first rider to have set a fastest lap in MotoGP on his debut appearance since Marc Marquez in 2013;
- the last time a satellite rider set the fastest lap of the race was in the 2012 Jerez GP, with Cal Crutchlow riding team LCR's Honda.
Share