Ever since the first year of Moto2, in 2010, German company Kalex has supplied the race frames to many of the teams competing, frames that then house the Honda CBR600 engine deriving from the standard version.
Several riders have won the Middle Class title using a Kalex chassis: Frenchman Johann Zarco, for example, dominated the 2015 and 2016 seasons with his team Ajo Kalex, before him there was Pol Espargarò and Tito Rabat.
Now, the German company wants to expand its market and is targeting World Superbike. Swiss rider Randy Krummenacher, riding for the Puccetti Kawasaki team, has in fact been testing a German frame during the post-race test at Aragon. As we learn from our colleagues' site Speedweek, after a month of development, the time has come to really check its potential.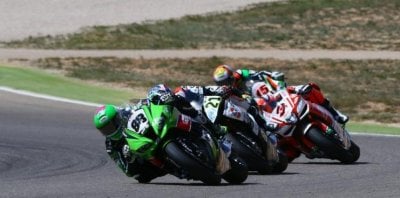 "We got in touch with Randy Krummenacher and Andrew Pitt of team Puccetti - revealed Alex Baumgartel, manager of Kalex- to find a way into the SBK paddock. They showed willing and we sent them a frame to test at Aragon".
The Superbike is totally different to the Moto2 and Baumgartel explains why: "we were so busy with Moto2 that we didn't have time to dedicate to this new project, until a month ago. Everything changes with the production-derived bike: the frame reactions and how this impacts on tyre performance. The weight is different, there's traction control and so on. Our frame for Superbike is in aluminium, like that used in Moto2. To build a good Superbike frame we need to consider many parameters, including flexibility, the stability needed, setting options".
In addition to providing technical support to Krummenacher's ZX-10R, Kalex aims to offer its experience and technology to additional SBK teams.