The Grand Prix of Argentina at Termas de Rio Hondo has a rather short history, but it has definitely been good to Honda. In the three editions hosted there, Marquez has always started from pole position and he has finished on the top step of the podium twice.
It is easy to understand how this is the right chance for him to leave his difficulties from the first race in Losail behind him and go on the attack against Viñales.
"Qatar was a hard Grand Prix but we improved a lot over the weekend even if we couldn't reach the podium - Marc recalls - Now we'll see if the work we did there will be fruitful in Argentina. The track is nice; I've always felt good there, but the grip level is always pretty low."
The Honda riding Spaniard emphasizes this point in particular.
"Tyre life is something to be aware of, as it's normally very short, so we'll work to reduce this issue and also to further improve the general bike setup. We look forward to fighting for the podium in front of our Argentinian fans, who are very passionate and supportive."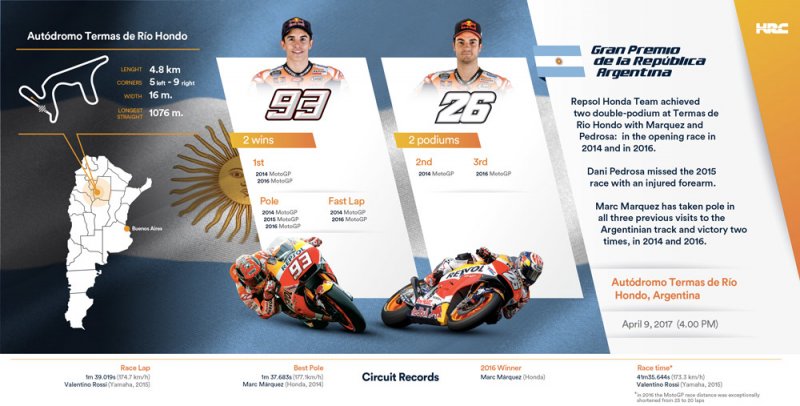 Dani Pedrosa has always been competitive at Termas de Rio Hondo as well: in 2014 he was 2nd and last year he finished 3rd, whereas in 2015 he did not participate in the GP.
"We've remained positive after the first race, which was quite strange due to everything that happened before the start - he remembers - Now we aim to keep working hard, looking to improve in Argentina. We'll start with basically the same setup we finished with in Qatar, of course adapting the gearbox and the mapping setting to the track, and on Friday we'll see where we are."
Dani is in agreement with Marquez on the importance of tyre life.
"It's difficult to make predictions before getting to the circuit, as we must see how the track conditions are and how the tyres work. But we are ready and excited to get there and jump on the bike. Usually the asphalt there is very dirty and hard on tyres, but it tends to improve over the weekend. We'll do our best to get a good result."