Once upon a time, riders would pack sun cream and shades before travelling to Qatar, now a scuba mask and flippers might be more apt when it comes to dealing with the puddles at Losail. A cold shower for everyone, particularly for those who must ensure safety at the racetracks in all conditions, rain included.

Luckily, Sunday played out smoothly (almost), without hitches. Mavercik Vinales gives thanks and keeps his promise, Andrea Dovizioso represents for Ducati, and Valentino is simply Valentino, coming through despite the predictions and crises.

A solid third, to which we add Morbidelli, who scores his first win.

THE GOOD – The Italians scored a hat-trick in the Qatari desert. Firstly, Dovizioso, who (once again!) came home second, but fought with a conviction that we've rarely seen. Secondly, Valentino, who may be old but he forgets all about this when the time is right. Thirdly, Morbidelli, who, after scoring so many podiums, finally scores the win.


THE BAD – The Assyrians didn't live far from where Qatar is and more than 4000 years ago they had already invented drainage, those systems used to take water away when it rains. Well, at Losail they obviously haven't studied their history books and don't know what drainage is. Let's forget about the management of the rain emergency, because the problem came before that. It may barely ever rain in the desert, but you cannot rely on luck when there is a world championship being held.
THE UGLY – yes, Marc Marquez was on track on Sunday be he used his superpowers to become invisible. Aside from missing out on the podium, the world champ made little more than an appearance in the first race of the season. He did score some points though, what we know just how quickly he'll learn the lesson.

THE DISAPPOINTMENT – Jorge Lorenzo was scorched during the baptism by fire with his Ducati. Some difficulties were to be expected, but the gap from Dovi was huge, at a track that has always favoured the red bike. The Majorcan needs to find his way.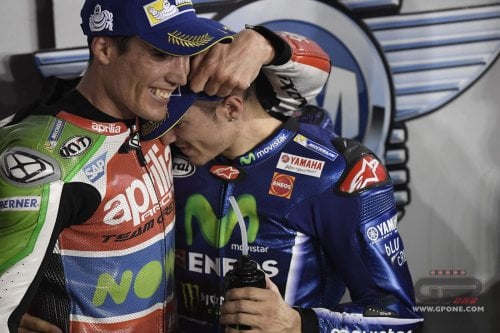 THE SURPRISE  – We'll whisper this, but we weren't convinced by Aprilia over the winter, nor by their decision to Aleix Espargarò and leave the others at home. Yet the Italo-Spanish pairing was biting at the ankles of the factory Hondas in Qatar. Their teeth are sharp and they're clearly hungry, let's keep an eye on them.

THE CONFIRMATION  – We already saw it was love at first sight during the initial tests, but needed the first official event to confirm this. It may not have been in candlelight, but the pair didn't mind too much. At the chequered flag it became clear that this will be a long and prosperous marriage. Congratulations to Maverick Vinales and Yamaha.

THE ERROR – When he takes the microphone, he has the same effect as 5 drops of Valium, but put a helmet and leather on him and he's transformed. Johann Zarco may have lit up the track with sparks as he hit the deck, but prior to this he was lighting it up with his courage and talent. The crash was simply a mistake, for which he's already forgiven.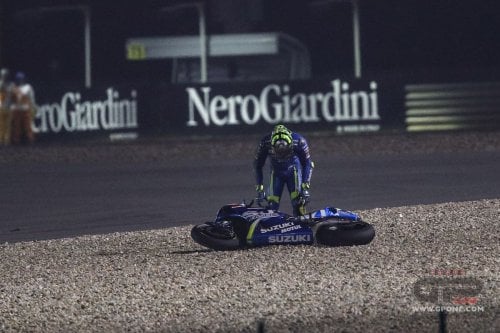 Iannone meanwhile, if he wants forgiveness, will need to recite the names of the Japanese Suzuki engineers ten times over. Andrea did well to redirect a weekend that started out badly, but a rider of his experience cannot crash like that.
THE PASS – The only doubt about Vinales was how he would behave in a head to head. Rewatch the fight with Dovizioso and you'll see.

THE INTERESTING FACT – A first MotoGP pole for Maverick Vinales, a first ever pole for Franco Morbidelli and Jorge Martin. And none of them even completed qualifying.

I TOLD YOU SO – Valentino Rossi after the Qatar tests: "we need a miracle here". Someone up there was listening.