Who will win the 2017 MotoGP title? This is the question everyone is asking, but we'd need a crystal ball to be able to answer it. Alternatively, we could ask some riders and former riders, some of whom are world champions...
22 riders from Nieto to Spencer, and from Mamola, to Gardner and Hayden, have tried to predict this season's final top three. As well as from many former riders, predictions also came in from current MotoGP men Smith, Espargarò, Bautista and Barbera, who take on the title fighters every weekend.
We know you're curious so let's take a look at the final verdict. Victory comes down a two-way battle between Marquez and Vinales, with none of the 22 'judges' placing a rider other than Marc or Maverick in first place.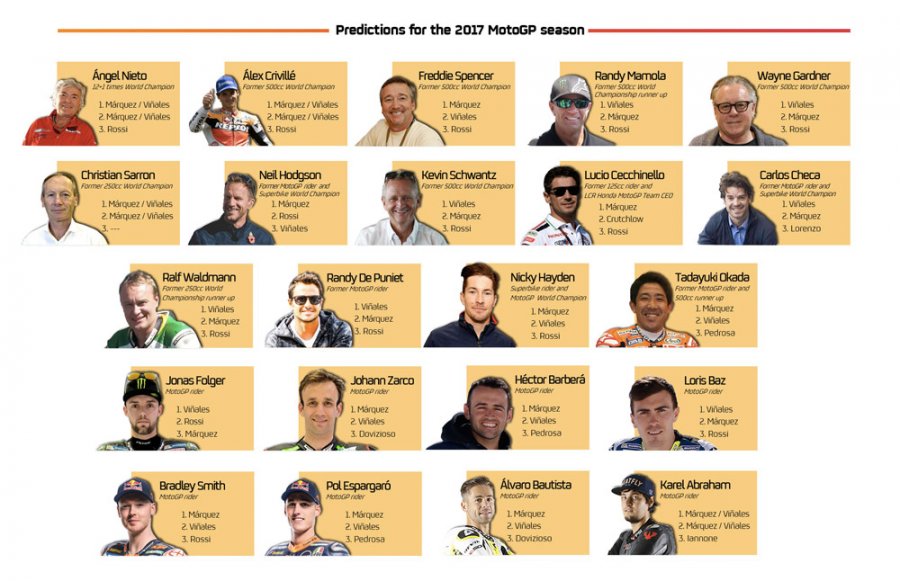 In the end, Marquez just wins out with 14 votes to Vinales' 12 (the judges could also state a double preference). There were no doubts as to the final top two, with the exception of Hodgson and Folger who placed Rossi 2nd and Cecchinello who - loyal to his shirt - opted for Crutchlow.
According to the predictions, Valentino comes home in 3rd place, with 12 of the 22 putting him in this position. Few opted for outsiders, though Checa bets on Lorenzo for third place, Zarco and Bautista on Dovizioso, Abraham on Iannone, while Barbera, Okada and Pol Espargarò prefer Pedrosa.
Do you agree with them? Let us known on our Facebook page.
Share