Davide Brivio has seen too much water pass under the bridge to be overly worried after a winter in which things haven't exactly gone to plan. It hasn't been a smooth ride for Suzuki so far, "but I'm optimistic, as ever" smiles the Italian team manager. It was logical that there would be some issues, as the riders have changed for 2017 but the stopwatch has proved telling.
For everyone except Vinales that is, who, having left Suzuki for Yamaha, dominated the tests.
"I'll be honest, Maverick has shocked me - admits Brivio - I didn't doubt his speed, but I didn't expect him to finish each test in 1st place. I'm surprised by how quickly he's adapted to the Yamaha, able to be fast at different tracks and in different conditions".
Many see him as the man to beat…
"There is never just one favourite, it doesn't make sense to say something like that, Maverick will be among the favourites. He'll fight for the title, not just this season but for the next 10 years. The duel between Marquez and Vinales will be a long-term one".
What kind of season do you expect?
"An electrifying one, last year 9 different riders won races, 8 of them could do the same again".
A solid group, which includes your rider…
"Sure, Iannone is definitely there. It's a big group, but I don't know who will win the title. That will become clear as the season goes on, we'll see who's still in the mix in August or September. We can expect a great championship".
You probably include Valentino in the list, despite his complicated pre-season.
"Like us, he too has struggled, ending the winter with some doubts. From the outside, it appears he has some technical problems that prevented him from fully expressing himself, but he and the team are very experienced and have a ton of data to help them resolve the problem".
 
You have touched on your problems…
"Looking at the times and the standings it's difficult to understand the situation. In Qatar we struggled, the riders didn't have confidence in the front, particularly Andrea. We worked a great deal on this, and things improved towards the end, for both riders. In the last hour of testing, Iannone found something that allowed him to be more comfortable".
So is it all resolved?
"We head to round one with some things to check, then we'll see".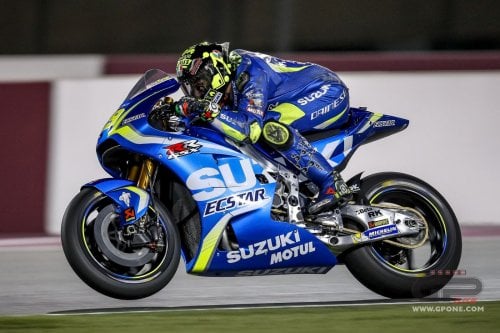 Did you expect such a complicated winter?
"I admit that we've struggled and that's prevented us from fully expressing ourselves, but we've also resolved various issues. In addition, everything changes over a race weekend, and it's there that we can find answers to our doubts".
What's the plan?
"Our idea is to throw ourselves into the race to understand our level compared to that of our rivals, I think it's the same for everyone".
Are the problems related to the changes to the GSX-RR?
"We made a good start in November at Valencia, then we slowed down towards the end of winter testing. We need to analyse the data and understand the impact the changes to the bike have had. As I've said, in the race it will be different, those who find the best set-up will make the difference, those who get their package working well, and we still have work to do. We just have to get started, I think we'll have clearer ideas after the first two or three Grand Prix".
Will you start with the new fairing?
"This week we'll calmly analyse the data and decide on our definitive configuration. There won't be a revolution, we'll continue with the concept, sorting out some final details".
What has struck you about your riders over the winter?
"I've had confirmation that Andrea is very motivated and keen to work. Even when we struggle he's always ready to try. He's someone who doesn't give up".
And Rins?
"I've been surprised by how receptive he is, he knows how to listen, to look at the data and on the track he can put this work to good use. He's great news, Alex is a rider who has great potential".
A classic question before the season kicks off.... You'll be happy at Valencia if…
"If we have done better than we did last year. We finished fourth with one race win, I'll be happy if we can do better than that".