The Supersport once again speaks Italian. After the win by Roberto Rolfo at the inaugural round, the Thai race saw Federico Caricasulo triumph, putting his rivals firmly in their place after what was a truly action-packed race. "It was probably the best race of my career – explained Caricasulo in parc fermè – in which I was able to ride well despite the heat. Thanks to my pace, I was able to build a lead in the final stages that allowed me to win this fantastic race".
Second place for one of the local heroes, Kraisart, who put together a great race, while Niki Tuuli completes the podium, having made a great recovery from further down the field. Just missing out on the podium was Warokorn, the temporary stand-in for Sofuoglu, followed by Ryde, Okubo and Morais. As for the Italians, the only two (aside from the winner) to cross the line today were Roberto Rolfo, who climbed to 11th place, and Davide Pizzoli, 14th and last.
A race to forget for Cristian Gamarino, who completed a great first part of the race (also setting the best lap) before crashing as a result of interference by Kyle Smith. The latter got up to all kinds of things: suffice to say that a few laps from the end he was given a ride through penalty for dangerous riding, which the rider ignored, crossed the line in second place but subsequently disqualified.
A negative race, albeit it for different reasons, for Jules Cluzel too, forced to retire due a technical problem while lying first. The same outcome for PJ Jacobsen (both still have zero points) and Lucas Mahias. Technical problems also stopped Michael Canducci.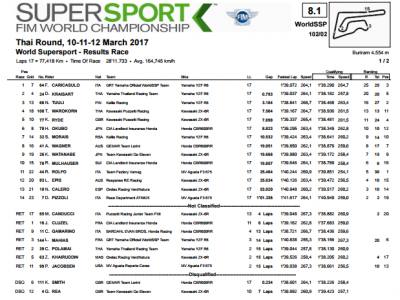 Share