Day one in Qatar was not an easy one for Honda.
The best of the two HRC riders was, unusually, Dani Pedrosa, who set the eighth time while Marc Marquez closed 12th, more than a second from the front, after two crashes.
Everything looks different in the dark though and appearances can be deceptive.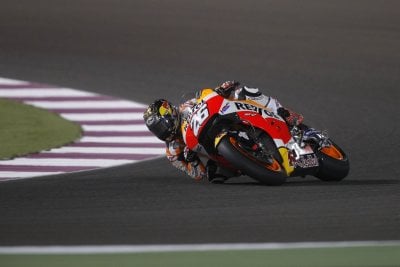 "On day one at Losail you have to get used to riding in the dark and the fact that the track is always a bit dirty - stated Dani - then there's the fact that when night falls the temperatures suddenly drops, as does the grip. It's difficult to see where the track is damp and this is why so many crashed. It was better to stop earlier and focus on pace rather than performance. The work has focused mainly on pace and tyre consumption. We've done one part but there's still room for improvement".
While Dani ended the day without causing any damage, the same can't be said for Marc Marquez who crashed twice, fortunately without hurting himself.
"We can't say today was one of our best days . he joked - I twice checked whether my shoulder is holding up and it's all good! We've worked hard and tested many things, including a new fairing…which didn't last long to tell the truth, but we'll carry out more tests.
Marc doesn't want to go into details about the benefits of the new aerodynamics.
"There are positives and negatives, but mainly it changes the riding style. The aim is to reduce wheelieing. The setting has to be different too and this caused one of my crashes - I braked too late and lost the front, while the second was down to the damp track".
Honda has carried out various tests, but around a consolidated base.
"Yes, the two bikes had the same engine and identical frame. We also made some consumption tests as this track burns a lot of fuel. On day two we will make more setting tests, to adapt it to this track. We've got a lot done today and that's important. The electronics? Better, from a pace standpoint we're not far off, even if  Dovizioso clearly has an advantage, and Vinales was fast too, but then acceleration is not one of our strong points".
Marquez has always worked with a view to the races.
"That's my work method, I always test with a fairly full tank", he concludes.
Share