After his DNF yesterday, Lorenzo Savadori was keen to bring home a result that would be useful for the championship standings and for his morale, but the ninth place earned today in Australia does not fully satisfy the team Aprilia Milwaukee rider from Cesena.
In fact, Lorenzo was aiming for something more and he himself confirms this. "I started eleventh and I lost a lot of time in the initial stages of the race - Savadori states - I was unable to overtake my rivals because I still need to improve my feeling with the bike. When I made some passes, I improved my ride and my lap times helped from the fifteenth lap on, it's just that I was too far back and it was impossible to recover."
The new starting procedure also made things difficult for Lorenzo…
"Everything has changed. I need to get used to this new rule. Yesterday I started sixth and today eleventh. Analysing the lap times, if I had started from the same position as yesterday, I probably would have been able to achieve a better result. But this hypothesis doesn't count. We need to look at the facts. This weekend that's the way it went and for the races in Thailand we know what we need to do to improve."
Alex De Angelis raced well today and his comeback astride the Pedercini Kawasaki was remarkable. From the nineteenth spot on the grid, the rider from San Marino moved up to an eleventh place finish and he sees this as a chiaroscuro result. "Considering the fact that I started nineteenth, I can feel satisfied - Alex smiles - However, I am also disappointed. I had something more than my rivals, but my bike struggled at top speed. It was impossible to overtake."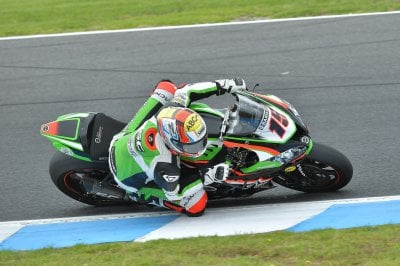 Can you give us a brief analysis of what you saw at Phillip Island?
"The difference in the race is determined by tyre wear and we are good at getting the Pirelli tyres to work well on the ZX10RR. We are at the same level as we were last year. The factory Kawasaki and Ducati bikes are ahead and the others are chasing, with the possibility of achieving good results in particular situations, like in the rain. I am better physically. My bike uses the tyres well but struggles at top speed. If I had been able to find just a few more kilometres per hour today, I would not have struggled to overtake Reiterberger. In Thailand we will have more data to work with and we will try to stay in the top ten."
Share