You only live twice is the title of a film and could also be applied to Marco Melandri's life. He was once the youngest ever winner of a Grand Prix - in the 125 class, at 15 years and 324 days of age, in 1998, in Holland– and has had a fortunate but tough career. He has won big, but he also lost big and has often had to reinvent himself to deal with the highs and lows that came along like ocean waves.
And this was the case across all the categories he's competed in.
Overall, he's been very successful: 41 race wins, including 22 Grand Prix across 125, 250, where he scored his only world title in 2002 with the Aprilia and MotoGP, as well as Superbike of course. His podium tally is also impressive: 111.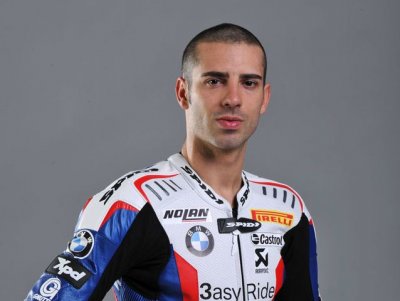 Despite this, success has often proved to be something of a precarious balancing act for Melandri. And it hasn't always been his fault. The Kawasaki, Yamaha, BMW and Aprilia all disappeared from under him, as he was followed around by a curse that saw all of the manufacturers that he rode for pull out of the various championships.
Up until 2015 when, having returned to MotoGP with Aprilia, though not out of choice, Marco himself decided to step away from his career.
Then, just as it all seemed to be over for him, he was signed by Ducati, a manufacturer with which he'd had a stormy relationship back in 2008. And here he is, alongside Chaz Davies, ready for his 20th year of racing.
Sometimes they come back.
Excited?
"I'm pleased rather than excited. I don't feel nervous now, just happy because I'm ready for the season, with a bike that is right for me and having prepared correctly for it. I am also with a team that wants to work and face the challenges with the same motivation that I have".
You must be a little tense at least...
"No I'm not. I know that if I do what I know how to do and enjoy my riding, then the results will come. What results? We'll see on Saturday. Tension only comes when you try to reach a position that's not within your grasp. Now my aim is to have fun and be fast".
Is it enough to be fast? More than once, you've failed to achieve your second title.
"In 2012 it was my fault I lost the Superbike title, but when the BMW boss comes to you three races before the end of the season and tells you that everyone will be going home at the end of the year, the atmosphere in the garage breaks down. I felt responsible and made mistakes that I had never made before that. But we cannot change the past, and I don't think about it any more".
Does the 125 title you lost in 1999 to Emilio Alzamor bother you more? He's now Marc Marquez' manager, what do you think of him?
"Well, the way I see it, you can't win a title by just being fast, as the circumstances are also important. That year, several things went wrong, but having said that I was on the point of winning the title, losing by just one point. Emilio is doing a great job today, but not as Marquez' manager, following a star like Marc is easy, but Alzamora is doing a great job with the youngster, with his team of young talents, I see his quality in what he's doing there".
You are one of very few riders who seem to never want to stop. Biaggi rode to beyond 40, Rossi is 38, you're close to 35.
"I like to race and ride the bike, but I like to do so when everything works well and I can work with people who enjoy working with me. When that's not the case, I don't give back. I've had the humility to stop when things weren't working and I think I'm the only rider in history to have turned down a year's money because I realised that bike wouldn't suit me. I'm referring to 2009, with Ducati in MotoGP. The fight for the title, the hunt for the title has to be a consequence, not the reason for starting. I know I have a lot to give, but I have to be in the right conditions to do so".
It's for this reason that you stopped in 2015.
"During that year away I took one step back to take two steps forward. If I had raced, accepting compromises, I wouldn't be here now. It was a winning card, not a gamble. Have I lost the touch by stopping? We'll soon see, in Race 1".
Many can't believe you returned to MotoGP only to then stop.
"The fact is that they pushed me into that move, but they didn't convince me. And what alternative did I have at the time, what should I have done? If I'd stayed at home, I couldn't have done anything else. Then up to ten days before Australia I tried to insist, and once back in MotoGP there were too many things that didn't suit me. I wasn't being lazy, I just couldn't ride. But, look, I don't want to talk about the past, I'm happy right now, I prefer to think about the present…".
Is this the happiest you've been in years?
"No, the happiest moment was when Manuela gave me a daughter and I became a dad, when Martina was born. Anyone who has experienced that knows it's the only thing that counts in life. Racing wise, I think this will be my happiest year because I'm having fun."
The worst moment?
"When I found myself at home because of other people's decisions. You at least want the satisfaction of making your own mistakes...".
When you're there on the start line what are you thinking? Is there a rival you loved to hate?
"No, there's no one in particular. I live the races day to day, I see who's close to me and that is the rival to beat".
Can we say that Alberto Vergani is not just your manager but also your best friend? It's also thanks to him that you're back here.
"Let me say something sentimental - Vergani and I have a very close friendship. He understood that the human relationship, for me, goes far beyond the financial side of things. We realised we both have the same mentality, this is why we get on so well".
Melandri's return came as a surprise to some. Do you ever think about a possible return for Stoner?
"He's proved that he's still fast, but I don't know what he thinks about racing. perhaps he himself doesn't even know. But I'll leave the gossip to the journalists".
You've said you love to ride. Is there any one bike that you still miss riding?
"That's a difficult one to answer, because a bike is always a compromise between the engine, frame and tyres, an important part of the package. I could say the 5-cylinder Honda, because it was beautiful and had a non-invasive antispin. That was a help, today the traction control and various aids have become a riding style. The Panigale reminds me of that Honda because it leaves the rider to do the riding, the electronics help but it's you that must control the bike".
Share