Today it was KTM's turn to launch their season in Munderfing. This is an important year for the Austrian manufacturer. Their presence in Moto3 is confirmed and they have tripled their commitment in Grand Prix Motorcycle Racing with their début in both Moto2 and in MotoGP.
In Hangar 7, the three gems from KTM - all branded Red Bull – filled the stage with their riders. The small Moto3 bike with Niccolò Antonelli and Bo Bendsneyder, the new Moto2 bike with Miguel Oliveira and Brad Binder and lastly, the monarch, the MotoGP bike, entrusted to the expert hands of Pol Espargarò and Bradley Smith.
The task of introducing the new project fell to Stefan Pierer, KTM's CEO. "The MotoGP project came out of a market need. It was essential to continue growing. I spoke with Pit and he drafted a perfect programme. The priority was to create the structure and after 3 years of work now it is all a reality. I won't say that we are nervous, but…" the boss smiled.
Pit is Beirer, the head of the Motorsport department who added "We have a lot of experience in racing, but with MotoGP we are entering another dimension. We love to race, but the last few months have been an adventure and a great effort was made by the entire company."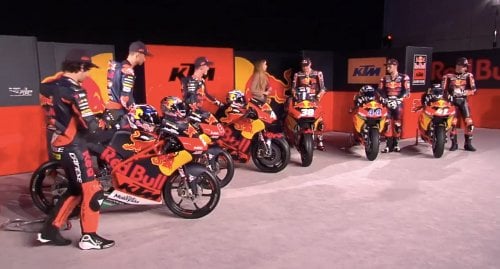 Beirer also explained why they need to be in all the categories. "This is a dream come true - he explained - The problem is that, until now, we groomed riders in the Rookies Cup, then in Moto3 and then we would lose them. Now we have a path that can take them all the way to MotoGP. This is the main reason that we committed to all the categories."
It will be a long road, but the MotoGP team manager, Mike Leitner is optimistic: "We had some problems in Valencia, but now we are moving in the right direction. There are many challenges to face. The main thing is to keep the riders motivated."
Pol Espargarò commented: "It is impossible not to love this bike. It is still a bit wild but it gives great sensations and we are improving it constantly." Smith was also ready to have his say: "There is a lot of pressure, but that is something useful. I have worked my entire career to be on a factory team and I am continuing to work with Pol and the team. These were some fun tests and now I'm excited to see what 2017 will bring."
In Moto2, KTM is relying on Miguel Oliveira. "I am happy to be part of this project. It is nice to be back with KTM. It is a new challenge and the first sensations have been very positive. There is still much to improve but we will manage." And then over to reigning Moto3 champion, Brad Binder. The South African was unlucky over the winter and suffered an injury, but "I have recovered and soon I will begin my tests. Moving up to Moto2 is always hard. I still do not have any goals, just to improve and then we'll see how far we can go."
In Moto3, Brad has passed the baton to Niccolò Antonelli. "It is fantastic to be here. This is my first year with this team and I am proud to be part of it - were his words - The bike is fantastic. I just need to work on myself. I want to try to repeat Binder's performance from last year."
The last word went to Aki Ajo who leads the Moto2 and Moto3 teams. "After the two World Championships that we won last year, I know that expectations are very high, but we need to keep our feet on the ground. In Moto2 we will be starting from zero. We cannot expect to win races straight away, but that is our goal. In Moto3, we have always been title contenders and we will be trying again this year."
Share