The final days of the year always come in handy to take stock of the recent past and to plan for the future. For motorsport enthusiasts, this means figuring out which weekends will be spent in front of the TV or, better yet, at the track.
All three calendars have finally been released for the bike and car racing championships (MotoGP, Formula 1 and SBK) and it is time to take stock. Those who do not want to miss even one race will need to set aside no less than 37 weekends, making the peace with wives and girlfriends.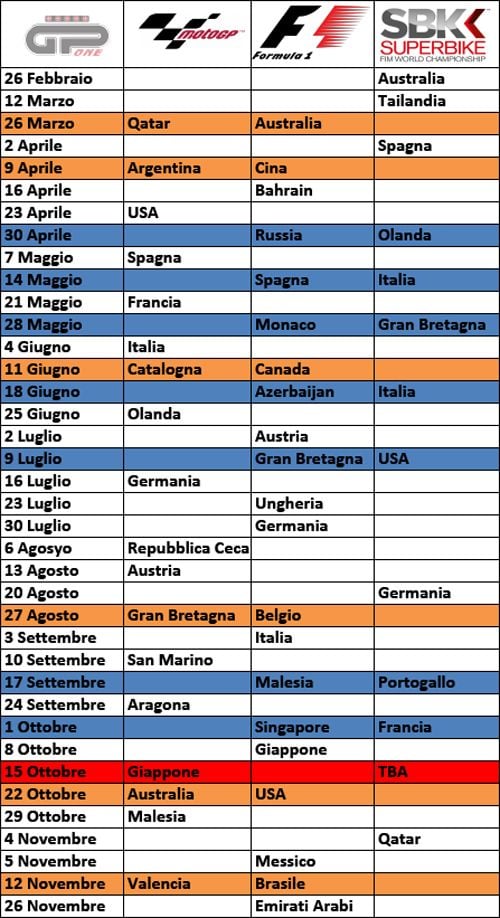 In fact, the games will soon be afoot. On 26 February, the long-awaited SBK championship will kick off when the lights turn green in Australia (One note: we marked the calendars on race Sunday, even though the factory derivatives hold the first race of the weekend on Saturday). MotoGP and Formula 1, on the other hand, will take a bit more leisure time and start simultaneously on 26 March, the former in Qatar (night race) and the latter in Australia (therefore, the time zones will prevent coinciding events).
The calendars will stretch out quite late in the year as well, because Formula 1 has the final race in the United Arab Emirates scheduled for 26 November, with MotoGP ending two weeks earlier in Valencia and SBK on the 4th in Qatar (where the races will be held on Friday and Saturday).
Now, as we talk about the coinciding events, the thing that bothers the diehard fan the most is having to decide what to watch live. MotoGP and SBK will not step on one another's toes. In fact, they only have one weekend scheduled in common, on 15 October. The prototypes will be in Japan, whereas the venue for the factory derivatives has still not been announced.
The bigger problem lies with MotoGP and F1, which will have 6 simultaneous GP weekends. It is also true that for almost every case (5), the different time zones will help matters, preventing the races from overlapping at the same time. The only "red tag" weekend will be 27 August, with the bikes racing at Silverstone and the cars at Spa.
SBK, on the other hand, is the championship with the most coinciding events, almost all with F1. There are only 5 free weekends. One will coincide with MotoGP and no less than 7 with Formula1, and not always with time zone differences favouring the conflicting dates.
Now you have all the dates, so the only thing left to do is plan out your 2017 motorsport schedule.
Share