Alex De Angelis is in his garage, busy with his MX bike. "I'm sorting it out, in the hope there'll be good weather this weekend. In the end, the best training for a rider is to get on a bike", he smiles. The San Marino rider did well to recover from a terrible accident one year at Motegi. He got back on the bike and battled it out this year, in SBK, even reaching the podium.
Despite all this, his future is looking uncertain.
"For now it's all in stand by - he explains - Both me and Giampiero (Sacchi, the owner of team Iodaracing) are working to find the budget. The plan is to continue in SBK with Aprilia, after years of changing bike or category, I'd like some continuity".
Time is short…
"In terms of entry I don't think there are any problems, but Aprilia will need time to prepare the bike and parts. I don't have any deadline, but it would be better to have it sorted by Christmas".
Is your technical team waiting for you?
"My crew chief Noccioli and all the guys would like to continue with me, but time is passing by and there is a risk they'll find something else. They also have to weigh everything up".
Are you optimistic?
"I don't want to be because I know it might not end well, but I'm not pessimistic either, I'll work until the end. I'm definitely looking around, preparing a plan B and C. The aim is to stay in SBK, if that doesn't happen I'll have to choose the best option for me".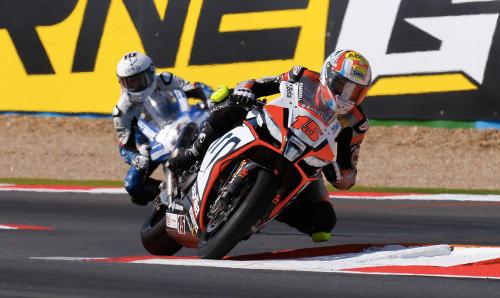 How are you feeling about it all?
"I'm far from relaxed, I'm aware it's December and time is tight. If this option doesn't come off, it won't be easy to find another spot in SBK, so I'd have to consider other championships. One thing is certain though - I have no intention of quitting racing".
Wasn't it you who wanting to ride in SBK, how was the season?
"It was the team's idea and I accepted it. This year I was able to reach the podium, in MotoGP with a privateer Aprilia that wouldn't have been possible, so it was the right choice".
How do you view SBK?
"I really like the atmosphere, there are many manufacturers involved and a lot of interest. It's a very professional championship, with everything we need to work as they do in MotoGP. Unfortunately we don't have the budget to carry out tests and develop the bike, new tyres continue to arrive and teams have to adapt the bike to suit them, but our bike has remained the same throughout".
Do you have any regrets?
"I'm convinced that we could have done more, also for this reason I'd like to take this year's experience and use it next season. I'm a little disappointed because we couldn't exploit everything 100% due to the budget".
How are you feeling physically?
"This winter I have no surgeries planned and so that's good, I can train as I wish. The situation is getting better, though there's little I can do about certain things".
Are you in pain when riding?
"My right arm has a circumference that is 5cm less than the left, but I've worked a lot on this and we've seen results in recent races. At first I struggled more, now it's better and I think that I'll make further progress by training this winter. Now that I'm doing well I have no intention of stopping".