BMW Motorrad is almost always identified with the bike that is its best-seller. That would clearly be the R 1200 GS, that not only gets a makeover for 2017, available in two versions, but now also boasts more technology that will doubtless confirm it as the best street enduro on the market. The 125 HP engine is confirmed, now Euro4 compliant and basically unchanged. The same is true of the chassis architecture that remains the same. But let's see what has changed instead.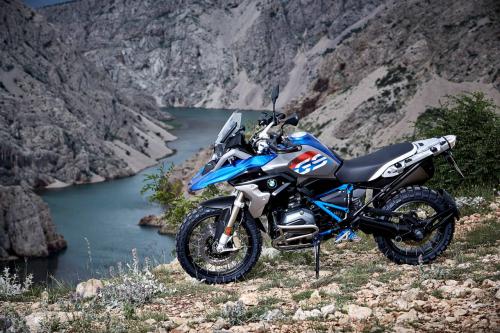 RALLYE OR EXCLUSIVE - Aesthetically, the GS does not change radically except for the colour schemes and a few parts, such as the rear part of the frame, now painted black. The only revised details are the front mudguard and the central part of the front wheel hub. There are, of course, small deflectors, and the air intake duct mask and the fuel tank side covers have been redesigned. Already in the base version, the two colours, pastel lightwhite and metallic blackstorm take care of giving the bike's body a final stylistic touch. But there is more. We now have a new configuration for the fairing components, with different radiator sheet metal. 

In the Rallye variation, there is also a metallic lupinblau colour scheme, painted decorations on the fuel tank side covers and the frame is powder-coated cordobablau. The black powertrain and the gold coloured brake callipers complete the package. On a technical level, we have the Rallye saddle, a sport sized top fairing and a radiator guard. Along with all this, we have enduro footpegs and crossed spoked wheel rims. In the Exclusive version, we have prestigious metallic iced chocolate paintwork. The delicate image is reinforced by the fuel tank side covers, painted metallic monolith, with tapes covered by clear coat and a metallic matt achatgrau powder coated frame.

TECHNOLOGY - In order to give the rider the possibility of staying glued to the saddle, the new R 1200 GS comes standard with ASC (Automatic Stability Control) on "Rain" and "Road". The "Pro Riding Mode" is optional and it includes the supplementary "Dynamic" and "Dynamic Pro", "Enduro" and "Enduro Pro" riding modes, as well as DTC (Dynamic Traction Control) that lets the rider accelerate more efficiently and safely, especially in an inclined position. Speaking of the "Pro Riding Mode", the new Hill Start Control system is included to make uphill starts easier, as well as ABS Pro (also checks the slope). And then we have the "Next Generation" BMW Motorrad Dynamic ESA (Electronic Suspension Adjustment - optional), with shock absorption that automatically adjusts to the current conditions. The Rally also benefits from a stiffer spring, longer shock absorbers and extended travel.
Share