In a little over a week, at Valencia, Enea Bastianini will take on Francesco Bagnaia: a position as vice world champion is at stake as well as that of the best-placed Italian in Moto3. The man knows as the Bestia (beast), "a nickname that started in the garage, everyone calls me this", is ready to get back on the bike after missing the Malaysian GP.
"In Australia Navarro hit my shoulder - he recounts - It was a hard blow and when I got back up I was dazed. I fractured a vertebra but I'll be ready for Valencia".
This won't just be Enea's last race of the season, but it's also his last with team Gresini. Next year he'll be with Emilio Alzamora's team (Alzamora is Marc Marquez's mentor).
"It was time to change - he continues - I wanted to move already last year but staying on a Honda. I have a one year contract with an option for 2018. The aim is to win the title".
A result which would allow him to move to Moto2 in the ideal conditions.
"It's not necessary to win, though I'd like to - he reflects - Then I'd like to do the same in Moto2 before arriving in MotoGP. That's my dream, similar to all riders. But there's no hurry, I won't do what Miller did and jump directly from Moto3. It's better to be prepared for it, Moto2 is a difficult category and I think I still have room for improvement in Moto3".
A spectacular and hard-fought class.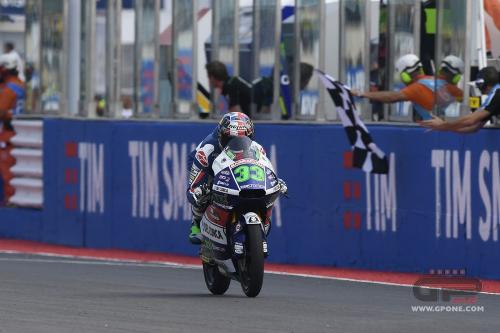 "It's fun, we all have good experience and trust each other: this is why we're all so close  - he says - There's always someone who does something crazy, particularly the less experienced guys who are not used to fighting at the front. That's OK, I enjoy myself, but if someone goes over the top, you get angry".
Bastianini knows his rivals well and has no trouble describing them.
"Binder is fast everyone and really knows how to manage the race - he analyses - Bagnaia is able to make the difference on the last lap, Antonelli is strong on the flying lap, Fenati is tough, Bulega is still green, but has already stood out".
Some of them, though not Brad and Pecco who will move to Moto2, will continue to be his rivals next season. He will fight them for the title that he misses out on this year.
"I need to learn to be aggressive in the final stages of the race  - admits Enea - I have a clean style, but in Moto3 you need to be more decisive. I also need to be more consistent and more focused, something that's fundamental in the last laps".
But was Binder really unbeatable this year?
"Brad has always had an extra gear - replies the Italian - But in the second half of the season, Honda gave us a hand and we were able to improve. I could brake later and enter the corner quicker. The KTM and Honda are very different: the first is more rigid, the second softer but in the end I think they're pretty equal".
Share