Let's go over some basic maths: 43 : 5 = 8.6. We're not just making up numbers, these are the points (right down to the decimal point) that Valentino needs to make up to Marquez in the final races in order to achieve his tenth title. With 5 Grand Prix still to run before the end of the championship, it's a two-way fight as, although mathematically Lorenzo is not yet out of the running, he is trailing by 61 points.
So it's best to focus on the two riders who are leading the way, and who will battle it out at Aragon in a few days' time. Let's say right now that a 43-point advantage is a significant number and Marc doesn't even have to beat Rossi to become champion, needing only to follow right behind him in each race.
Nine points per race is no mean feat, considering that this is the number of points separating the winner from the third-placed rider. The Doctor winning from here to Valencia and Marquez finishing 3rd each time is a highly improbable scenario in a season as unpredictable as this one, in which we have already seen 9 different winners.
This is not just the year of numerous different winners though. It's also the year of mistakes, of the Michelins that are making everything more uncertain, and of crazy weather conditions. This means that it's easier to make a mistake than it was in the past and those who do so pay dearly.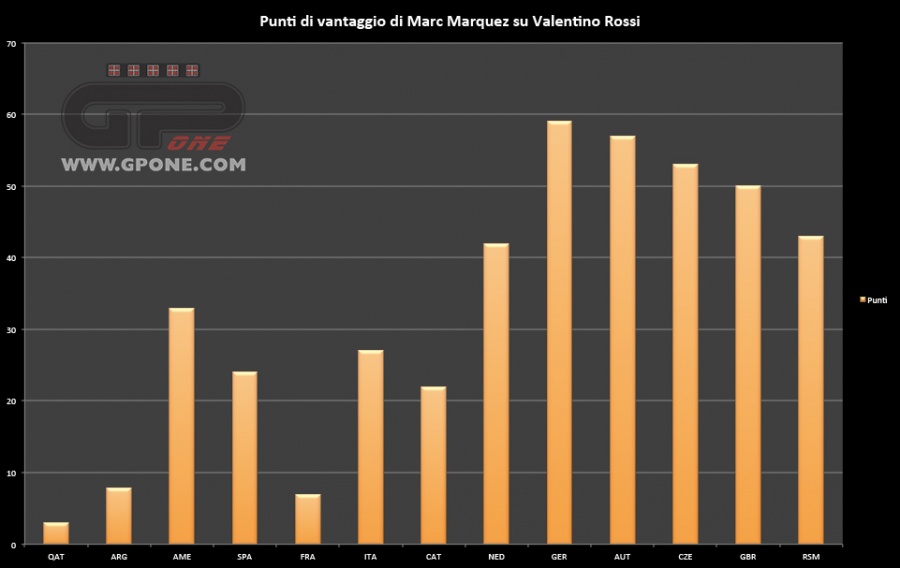 Valentino is well aware of this, having crashed in both Texas and Holland, before bad luck played its part with a broken engine at Mugello. This is clearly shown in the above graph that summaries Marquez's points advantage over Rossi. There are peaks with regard to those three Grand Prix and also Germany, where the Italian miscalculated tyre change timing,
From Austria onwards however, the points have diminished as, from that race, the Doctor has always finished ahead of his rival. Over four races, the gap has been reduced from 59 points (the maximum) to 43, so 16 less. If we pick up the calculator though, we discover that Valentino has made up just 4 points to his rival in each race, less than half of what he needs to do from here on in.
So is it already over? No, because, as we've said, there are unknowns around each corner, for both of them. One 'zero' for Rossi and he waves goodbye to the possibility of catching Marc, one for Marquez and the battle reignites. Marc knows this well and in recent races has rarely taken risks, reaching the podium just one, compared to three podiums for Valentino. A strategy that's paying off.
The Doctor, in turn, is playing his cards as well as he can, thinking only of the podium, as his only hope of catching the Spaniard is by finishing top three each time.
Let's not start talking about allies, because it's true that Lorenzo took points from Marquez at Misano but then Pedrosa took even more from Valentino and so on, if we consider recent races. The win becomes essential if you want to play catch-up or break away, and errors become the worst enemy. Then there's luck too, the best ally of all, but it's blind of course and no-one can decide who it will kiss.
Share