After appearing at the 2015 Tokyo Motorshow, the CBR2500RR, the small supersport from Honda, has finally shown its definitive outfit. The presentation was made in Indonesia, on Asian territory, where the new sport bike from the Wing Brand will make its début by the end of the year.
The sport bike's personality is highlighted by the sleek body with an aggressive design and LED lights that maintains a few sport concepts from the CBR family, such as the dual headlight front end in 600RR style. Everything combines with technical content in line with the Honda sport brand, downscaled in this case, however. The new Honda CBR250RR is powered by a 250cc, water cooled, parallel twin-cylinder engine with 8-valve DOHC timing. For its arrival in Europe, the engine displacement will be stretched up to 350cc.
There are still no official stats on the power, but it should be in line with the rival Yamaha R3 and Kawasaki Ninja (which, however,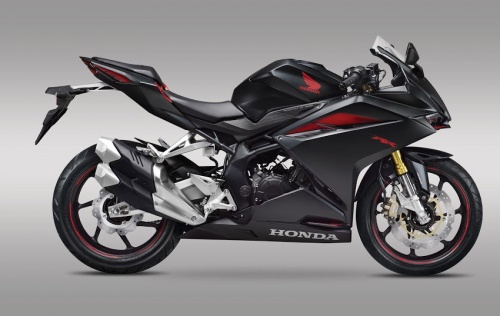 are sold in Asia with 250cc displacement), around 40-42HP. The electronics are confirmed, adopting Throttle-by-Wire (TBW) gas with three throttle response maps available, depending on track or road use.
The frame has a steel truss structure and an aluminium swingarm with gull arms differentiated in order to leave space for the sporty, dual pipe exhaust. The braking system relies on a pair of 310 mm dual discs on the front and it has two-channel ABS (optional). At the rear, on the other hand, the unit has 240mm discs. Wave profile discs can also be mounted optionally. The inverted forks also enhance the sporty look to replace the odd looking (although highly effective) conventional solutions seen on the competitors' bikes.
Right now, the CBR250RR is scheduled to be in dealerships by the end of the year only in the Asian markets at a price of about €4700 (at the current exchange rate). However, there has still been no official announcement on arrival dates in the rest of the world, including the European theatre.
Share