The first rule of motorcycle racing is as simple as it is taken for granted: don't fall. But then again, it is not such an easy rule to obey when you are on a vehicle that is continuously bucking the force of gravity and the laws of physics.
Assen was a prime example of this, with 17 crashes on Sunday alone, not bad when there are 21 riders on the track. Not every sliding crash is the same. There are those that are predictable because the protagonists are accustomed to 'letting themselves go' and others that are surprising. Like Valentino's, because Rossi is one of those riders who rarely sees the asphalt up close and also because that tumble had some heavy consequences on the overall standings.
It means that in the championship, the Doctor is now 42 points behind Marquez and he has three 'zeroes' out of 8 races, one of which caused by a blown engine (Mugello) and two by mistakes (Assen and Texas). Marc, on the other hand, has full points because despite the crash in Le Mans he still managed to pick up some points on that occasion.
When you put it that way, it would seem like Marquez and Rossi have reversed roles with respect to last year, where Valentino stood out for his consistency and Marc for being fast but likely to bin it all because of his excessive enthusiasm.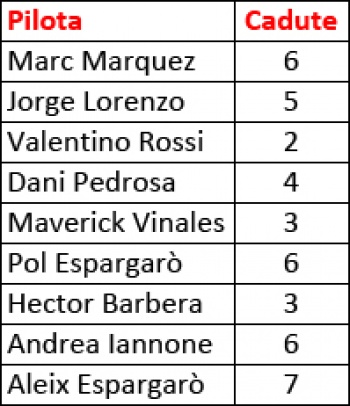 The truth is something else and the Doctor said it well after the Dutch race: "two mistakes in eight races are too many, but the problem is that I fell both times in a race." Valentino did not suddenly turn into a crasher and, to the contrary, as you can see from the table, if you consider the top ten ranked riders, he is the one who has fallen the least, only twice.
As opposed to the 6 times for Marquez and 5 for Lorenzo, who are both ahead of him in the standings. However, the Spanish riders have only gone down once in a race (Jorge twice, actually, but in Barcelona he was hit by Iannone).
The new rules this year - Michelin tyres, firstly - have made it easier to make mistakes, but Rossi is, in any case, one who makes them less often. In Texas, the crash was excusable because he hadn't fallen in a race for a long time. In Holland a bit less, although logically the Doctor had to go on the attack to close the gap. And then there was the technical problem in Italy. That is also one of those things that are just part of racing and you cannot blame the rider for it.
If anything, Marquez is the surprise if you consider that last year, after 8 races, he was the one who had filed away 3 races with zero points. This year, on the other hand, he has figured out that consistency goes a long way and the standings are proving him right.
We'll close with a bit of trivia: the two riders who have fallen the most at the moment are Smith and Pirro, 15 crashes each.